The STORM is back!
Football season is back in full swing. Themed home games, school spirit, and fall weather is here.
This year our varsity football team has been working relentlessly at practices every week day from 4 p.m to 6 p.m to be a stronger and better team than they were last year.
Assistant Coach and Smart Lab teacher, James Mould has noticed a big change in branching out and getting new experiences for the players compared to last year.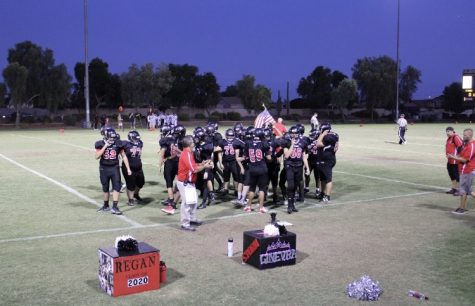 Mould said the team sets goals which allows them to have brighter outlets for their futures.
As a team, their main goal is to get the team into AIA, or Arizona Interscholastic Association instead of CAA, the Canyon Athletic Association, to compete against more schools.
With all of their hard work, Mould hopes that it pays off in the game and competition. 
Sophomore and team captain, Riley Casaccio, who plays integral positions on both sides of the ball, agrees with Mould with wanting their hard work to pay off with results of winning games and getting into AIA. 
The team took their first win Friday, Sept. 13 at a home game at Glendale Youth Sports Complex with the score of 51-14. Going home feeling good and proud, the team celebrated their victory with a 2–2 record.
"I hope we can get a couple wins under our belt so we can make more of a name for ourselves so we can grow in the football community," Casaccio said. 
The team's next game will be on Friday, Oct. 25 at 7 p.m at Glendale Youth Sports Complex. This is a home game you don't want to miss. Homecoming royalty will be recognized and all seniors will be recognized as well. Be there to support our senior athletes, homecoming royalty, and our boys as they fight to take home a victory at the last home game of the season.