Back To Back Champions
On Nov. 12, 2022, Storm Varsity football crushed Imagine Prep Superstition with a 32-18 win at the CAA Division 2 State Championship game, making this the Storm's second State title in Imagine Prep Surprise history.  Not only was this a back to back state championship win for the team, they also beat out their rival to take this win. 
Junior Drayke Woolsey scored two touchdowns and seniors Jessiah Yates, Nolan Casaccio, and junior Bryce Pollay all scored touchdowns as well during the championship game bringing the score to 32 points against the Panthers of Imagine Prep Superstition.  
Yates shared how he felt about a second state championship win. 
"It feels good that we won another state championship. Winning one championship was good but winning another one was even better, especially with it being back to back," Yates said.
 Senior Nolan Casaccio shared how he felt about another win.
"It feels great to be able to end my season with a win. It was great to see everyone really come together by the end of the season."  
Both Yates and Casaccio are able to graduate this year with two championship titles under their belt.  
Woolsey was named Canyon Athletic Association's Player of the Game. Woolsey explained what this honor felt like and meant to him.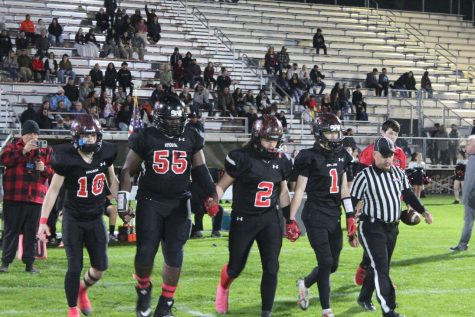 "Surprised. I think Nolan for sure played really well so I was definitely surprised," Woolsey said.
Woolsey also shared how he felt about the team's victory as a whole.
"I think it's really cool to be able to send all the seniors like Nolan and Michael and Jessiah out with another ring but for me it was really just another game because I got a whole 'nother year and we are just going to do it again," he said.
With  nine wins this season and only one loss, the team was confident they would take the title.  No win is without challenges.  Yates discussed the challenges the team faced this game. 
"People getting injured towards the end was a little challenging. Trying to find players to replace them was confusing and trying to find out where to put them when they were on the field was a challenge," Yates said.  
Woolsey spoke of challenges they faced as well.
 "The quarterback of the last game was really fast and basically our biggest worry was keeping him contained but we did it," Woolsey said.
A win for the Storm Varsity football team is not only a win for the team, but also a win for the school.  Athletic Director Sean Sachau shared how winning back to back championships affects the program as a whole and whether or not it will boost enrollment for the school. 
"We are creating a winning culture at our school.  Not just on the football field, but in the classroom and community as well.  Having a successful team will always boost our enrollment because it creates excitement for kids coming back the next school year."  
He shared how winning another championship game felt. 
"My number one goal is to provide our student-athletes with a positive experience while competing in sports.  Anytime you win a state championship, it creates an increased level of energy in the student body and increases school-wide bonding." he said.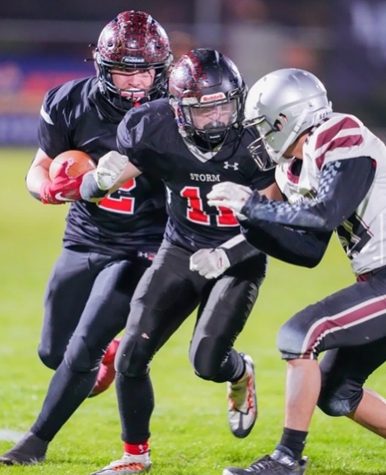 The students at IPS could feel the energy from the win and that helps boost participation and morale for the students in regards to other sports that the school offers.  All programs want a taste of the victory that Storm Varsity Football has achieved. 
In addition to the team win, select Storm players can also celebrate their success of being named Imagine Prep Players of the Year via MaxPreps.com. Yates was named Defensive Player of the Year, Pollay was named Overall Player of the Year, Casaccio was named Offensive Player of the Year and Woolsey was named Special Teams Player of the Year.  Congrats to these amazing athletes and all of the Storm Athletes for their wins this season.
Leave a Comment