Soaring with Middle School Softball
The Middle School softball team started the quarter off with a bang. The team is  filled with excitement to learn and play, and their games are filled with energy. They are hosting practices twice a week and games twice a week. The team does a mix of skill building practices and fun activities for team building during practices as well. 
Emma Franco, a high school English teacher is also the coach of the middle school softball team. She volunteered to be the middle school softball coach because she had played softball her whole life. She coached for the first three years she worked at Imagine Prep, but was unfortunately interrupted by the pandemic. 
"I really want to get girls comfy in a lot of different positions," Franco said. "If someone needs to go on vacation or someone is going to be absent, I want girls to feel comfortable playing a couple different positions in case we need them there."
This year they only have 12 players on their team; a game usually plays with nine. Most times softball teams have a few more players in case of a substitution. Franco said she needs the team to be prepared if they need to be thrown into a position they are not used to if they need to substitute for someone who isn't there. In the process of this they have one real designated pitcher and catcher. 
"I love rooting for the girls, I love cheering them on," Franco said. "I definitely try to create a space that is just super positive, super uplifting. I always want the girls to tell them that they are doing a good job."
For this year's season Franco is working more on positivity to keep them motivated as well as balancing that with skill building during practices. Although she wants to keep it as fun and exciting as possible, she still practices with giving consequences if needed. If they aren't doing their drills or if they skip practice, there will be the most reasonable consequences for that. However, other than that her main goal is still to create a comfortable space for everyone.
Tessa Casaccio, an eighth grade softball player, is very enthusiastic and loves playing softball. She is very determined and has a set goal to accomplish during this season and will work however hard she needs to, to get there. 
"Just to try my best in a way," Casaccio said. "And make sure I help everyone and not just focus on me, and to win."
Casaccio has a family history with baseball and softball; her brother and dad have played baseball while she is the first to play softball. She was introduced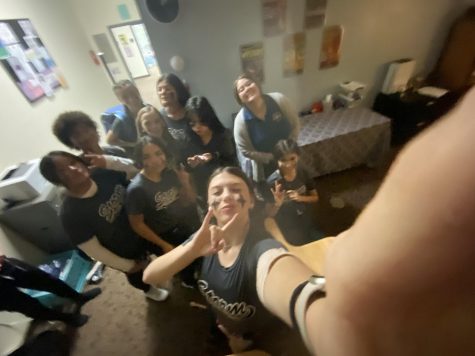 to softball and started playing when she was younger, just by being surrounded with family members who participated in similar sports. She has a really positive outlook on this season and with everyone on her team.
"Everyone gets along with everyone," Casaccio said. "It's good to bond with the team and everything."
Everyone has a great feeling about this season and their teammates this year. With the help of Coach Franco getting everyone together and excited to play all sorts of different positions, and student athletes like Casaccio bringing in a positive attitude, the future looks bright for our middle school softball team.
Leave a Comment