The Best Christmas Movie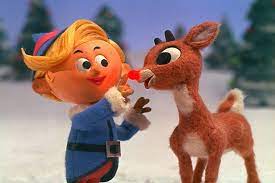 During the Christmas season many families love to watch different Christmas movies to get in the holiday spirit. New Christmas movies come out every year and although it's fun to watch those, we shouldn't forget all of the original Christmas movies that many of us grew up with.
In my opinion one of the best Christmas movie is Rudolph The Red-Nosed Reindeer.  This movie came out in 1964 and although this movie is an older Christmas movie it is still loved by many. One thing that has helped this movie stay popular and relevant is the song Rudolph The Red-Nosed Reindeer which is frequently played every year. 
This story is about Rudolph the reindeer being made fun of and singled out for his red glowing nose. Later he ends up being a hero because he used his unique nose to create a bright path and help Santa Claus deliver the presents. The reason I believe this movie is one of the best Christmas movies is because it not only is a festive holiday story, but also teaches valuable life lessons. This story teaches people to not let others define your value, your uniqueness is what makes you special, and difficulties are sometimes good things in disguise. 
This movie is important to me because watching it was a tradition in my home and I grew up with it. So although I have already seen it many times I still love to re-watch it because the movie is nostalgic for me. I think everyone should get a chance to watch this great movie if they haven't already. Maybe it can be a tradition in your home too.
Leave a Comment