Testing for Success
Cambridge testing has always been an essential part of school here at Imagine Prep. It allows many students to test at the college level; teachers always make sure that it is recognized in many ways when a student passes. On March 25, an assembly was held with all the high school students to recognize the students who achieved high marks on the most recent exam series.
Guest speaker Nancy Potter is a School Development Manager at Cambridge Assessment International Education in New York.  Potter visited Imagine Prep to acknowledge the students who worked hard and earned exceptional test results.
"Students work very hard for what they do, and I appreciate that we celebrate that," Potter said. "The exams are challenging; it's a situation where you have to do some labs for the science portions and many complex equations for math."
Celebrating the accomplishments that students have made for Cambridge testing will make the students proud of themselves and may even encourage other students to take the exams.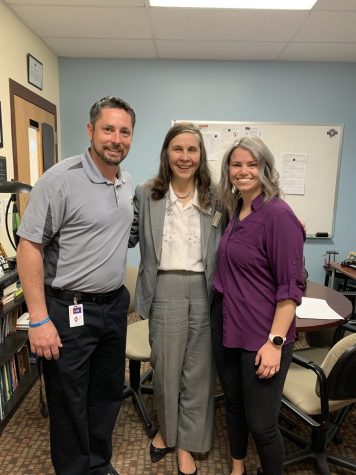 "I love the whole idea of awarding and celebrating the success of each student," Potter said. "Just even taking one exam can benefit you for college, and it's great that the staff acknowledge that for the students."
There are many different factors in the Cambridge exams that can help benefit you in the future. 
"I think that peer pressure is always helpful," Potter said. "What's nice is that students can take the exams earlier; therefore, they will get into the scholarship process earlier."
Potter stated that the students at Imagine Prep are amazing with how many students have enrolled to test, and the number of how many students are passing is growing as well.
"Keep up the good work and keep trying the best you can do," Potter said. "If you can take a Cambridge exam, then go for it; it can benefit you in more ways than one."
Biology Teacher and Cambridge Coordinator at Imagine Prep, Sara Camren, shared her view on the tests and the students.
"I think it's important to recognize the students because of the amount of hard work they have put in," Camren said. "When a person goes above and beyond in anything they do, it should be recognized and set as a role model to other students at the school."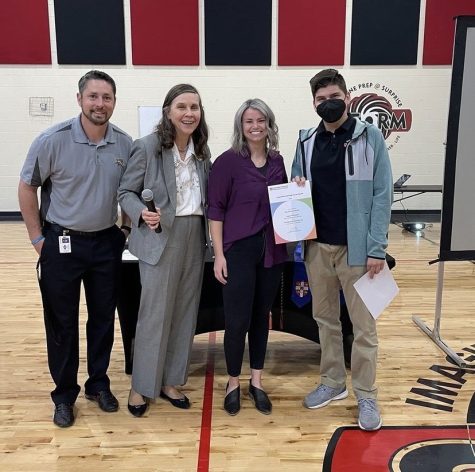 These accomplishments recognized in front of many students can persuade them to take the tests, letting them know that they can pass and go above average.
"That was the goal of the assembly… To show other students at the school that it is possible to achieve above average on the test potentially," Camren said. "When you pass, it can add extra swag at graduation."
Depending on your score on the Cambridge tests, you can receive cords to wear at graduation, which shows that you have taken the tests and passed. 
"Teaching the content is the best part of the Cambridge testing process," Camren said. "We are always doing labs, practicing English writing skills, learning about important parts of history; there's always so much that goes into setting up the exams."
Camren is the one who usually sets up the times and dates for the tests. She also informs the students that they are taking the exam and gives them information about the exam day.
"From taking the exams, students can earn college credits which is nice because it saves them from the price of that particular college class," Camren said. "Even for the students who had earned C's, they are college-ready."
Camren wanted to celebrate every student who passed, even those with C grades, because it indicates that they are ready for college and is still a huge accomplishment. 
Alexander Alfieri, also known as "Sasha," is a current junior at Imagine Prep. He received the highest score on the Math IGCSE exam in the country in 2021. Alfieri has taken World History, Literature, Math, and a few other subjects.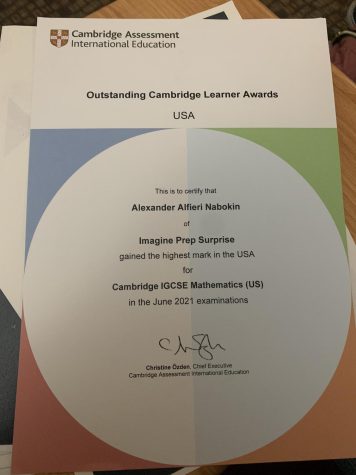 "I got the highest in math of 2021 and the highest marks in the literature exam in 2021," Alfieri said. "For the math exam, I earned a reward for the highest marks in the country; I was very honored for receiving that type of award."
Alfieri stated that he doesn't enjoy the testing process because it is very long and can be very dull at times. He also said that during the testing season, everything is stressful.
"I will be sitting the chemistry exam for sure; I was told by Mrs. Camren the other day when and where I will be testing," Alfieri said. "I believe that I am taking a couple more exams this year, but I'm not exactly sure which ones I'm doing."
Studying for exams can be very stressful. Alfieri stated that he doesn't study until the night of.
"There's a video database from Cambridge that discusses the topic," Alfieri said. "I usually watch those videos the night before the exam and generally review the topic."
Alfieri shared that he procrastinates a lot when studying for exams, but does not recommend others follow suit.
"Some advice that I would give to future testers is not to procrastinate and watch the videos," Alfieri said. "The videos help and can get you to test ready. Just don't do it the night before."
Cambridge testing has many benefits for students whether they are planning to attend college, a trade school or begin a career after graduation. While there is a lot that goes into testing preparation, the courses students are enrolled in, and the opportunities their teachers offer to them will help encourage students that they are prepared and ready for exams.