Can You Meet The Kindness Challenge?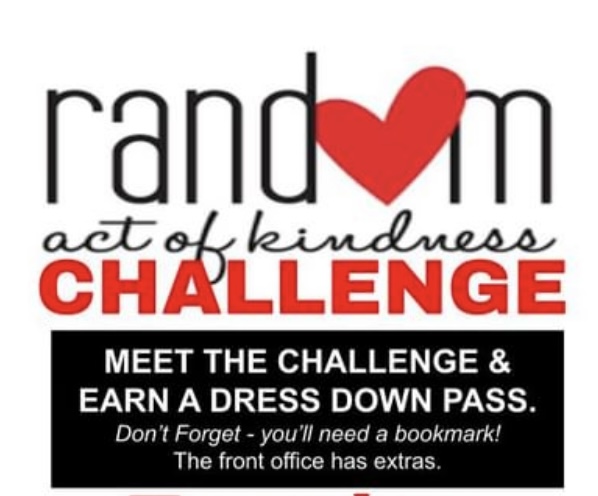 On Monday, Feb. 13 Imagine Prep hosted 'Acts of Kindness' week created by our very own, Gia Lowell. She made this challenge to be completed all throughout the week; Monday, by picking up trash on campus, Tuesday, by complimenting your friends and strangers, Wednesday, by spending 30 minutes doing something you love, Thursday, by writing a letter of appreciation to a family member. This week also included lessons in ECAP and homeroom classes. If the challenge is completed you are to turn in the bookmark with the quotas for each day and you will receive a dress-down, simply for being kind.
"I know that children rarely invest in something without a reward, so that's why we started off with a challenge and then I just built upon that. The hope was to get students to reflect on kindness in order to bring about the awareness that real kindness is just the simple things that make life enjoyable, doable, or even bearable," Lowell said. 
Since the pandemic, it's been noticed by Lowell that kindness seems to have dwindled away and that people have become more self-involved, and that even in children common courtesy hasn't been developed due to being at home. 
"It was very important to me to make sure I addressed a variety of ways to be able to show kindness in order to bring about awareness. I think too often people get stuck in one aspect of kindness and forget that it is so much more than one thing," Lowell said. "They forget that it can be just a simple genuine smile in the hallway. The basics of being kind are simple. Our campus needed to be reminded of that."
Chris McComb, principal of Imagine Prep added that he believes kindness to be something that costs us nothing and can build our community. McComb said that kindness can be as simple as a smile.
"We all should be reminded about how simple acts of kindness can make a big difference for us and others alike. We all have bad days, but if those hard days can be made easier through the love, support, and compassion of others, I think it's worth it," McComb said.
Lowell spoke about how she has shown kindness every day that changes the trajectory of her mood and she hopes that others will be affected by this as well. She honorably mentioned how Mr. Hulstrom was someone who always showed kindness and who she tries to emulate every single day on campus. While Mccomb also said he's often shown kindness and tries to reciprocate that. McComb and Lowell agreed that they both hope that kindness can continue past just this week and can become something everyone considers taking part in. Everyone needs to be reminded about how simple kindness is. Despite having a bad day we should always be kind not just to our community, but to fulfill ourselves by building positive relationships as well.