New Year, New Yearbook
The yearbook is a big commitment to make throughout the school year. The students in the yearbook class work very hard all year to attend most sporting and club events, take photos, and then later write about them on a page to share with everyone. So many little things contribute to making the yearbook great and memorable for all of the students attending Imagine Prep. 
Stacia Gunderson, the High school teacher of the yearbook and photography classes, was asked how this year's yearbook was coming along. 
"The class is going good," Gunderson said. "We had a bit of a slow start because we had to train a lot of new lower classmen that joined the class this year."
Gunderson mentioned that she has been seeing a lot of new improvements with all of the students this year and is proud to see their hard work coming out onto the spread.
"By the end of the semester, I hope my students have more confidence in themselves to design the spreads by doing interviews, taking photos, and writing," Gunderson said. "I have seen their progress and strengths within the last few weeks, so I hope they realize it too."
The yearbook theme is entirely different than it has been in the past few years. Many students in the class wanted to make this yearbook something different and fun.
Gunderson said that she is very happy with the theme and can't wait for the students and staff at the school to see it.
"I'm always looking forward to the satisfaction of the yearbook being done and physically holding it," Gunderson said. "A lot of hard work goes into making the yearbook, so holding the final product is always the best and most exciting part."
The yearbook committee has a chief and editor who works side by side with Gunderson to help plan certain pages and edit all the yearbook pages. This year's chief and editor is a senior at Imagine Prep, Taylor Woolsey. 
"I have worked with every student this semester to see their progress on the pages, and if they needed any guidance or extra help, I would always be a shoulder to lean on," Gunderson said. "Taylor and I meet weekly to discuss the progress of the pages and to see if we would need to make any necessary changes."
"I'm very excited to see this group of students grow," Gunderson said. "When we are in class, it is a very team environment. Everyone gets along well, and we all work together to get as many pages done."
Gunderson explained that the yearbook is an essential aspect of the school so the students can have a document about everything that happened in that school year.
"Yearbook is a great class because it's impressive to have on a job resume and gives you real-world experience," Gunderson said. "I appreciate the dedication from the students because it is challenging."
Jacob Dodge, a Sophomore at Imagine Prep, expressed his views on Mrs. Gunderson's yearbook class.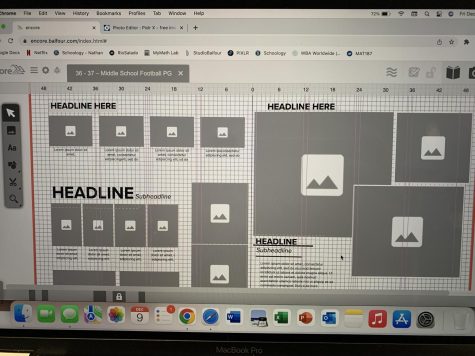 "The yearbook class is going pretty well," Dodge said. "I wasn't sure how I felt about it at first, but now I've really come to enjoy it."
Dodge has helped with many things in the yearbook class, such as taking photos at multiple events, interviewing people, and making spreads with classmates.
"I want to get our second spread done; that way, I don't have to stress about it so much after winter break," Dodge said. "I finished my first two pages and took many pictures for the yearbook."
Dodge was asked what the overall theme of the yearbook was and his own opinion on it.
"You will have to buy a yearbook and find out!" Dodge said. "All I can say is that this is the best we've had yet."
The theme of the yearbook had grown on Dodge over time. He didn't like it when the theme was first decided, but he now thinks that the yearbook couldn't be better than ever without this theme.
"I'm really looking forward to seeing the yearbook done and printed," Dodge said. "In class, I mostly try to cheer everyone up and make it a fun time cause I know the deadlines can be stressful."
Dodge mentioned that he is happy to be in the yearbook because it gives him a good work ethic and is like a job. Dodge expressed that the yearbook prepares him for the real world after he graduates to have better communication and time management skills.
"The group of students in the class is amazing," Dodge said. "Almost everyone collaborates, and we all sit at one table to talk to each other about random things or if we need help on a spread."
Dodge would like to thank Mrs. Gunderson and his yearbook family for helping him grow this year.
The yearbook committee works hard to ensure that everyone who attends Imagine Prep is in it at least once. However, it takes a lot of commitment; all of the students in Mrs. Gunderson's class enjoy it daily. Thank you to the yearbook committee for working hard and making this yearbook memorable for every student at Imagine Prep.

Don't forget to buy your yearbook to see the amazing theme and the committee's hard work!