The Hidden World awaits, come take a look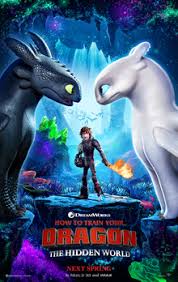 Hang on for a minute...we're trying to find some more stories you might like.
How to Train Your Dragon: The Hidden World is the beginning to the end of the journey where a Viking became friends with a dragon. The newly released movie is based on Hiccup (voiced by Jay Baruchel) and Toothless who find themselves faced with a new enemy. Unlike Bloodfist, Grimmel plans to destroy all dragons. But Hiccup and the gang can't just let this happen.
Whilst raiding a dragon-trapping ship, Toothless stumbles upon a Light Fury; but little does anyone know that this Light Fury may not be on their side. Despite that, Toothless can't seem to stay away. While Toothless and the Light Fury get closer, so does Grimmel. But thankfully Hiccup has a plan, it may not be that great or well thought out but a plan is a plan.
Although when push comes to shove and the people of Berk must find a new home, they decide to go looking for the Hidden World; where Berkians and dragons can live in peace. But it seems someone is hot on their tail with the help of someone the Dragon King Toothless trusts. Hiccup must make an important decision on whether the world deserves to be blessed with the presence of dragons or not.
As the end of this amazing, heart-stealing trilogy comes to an end, we must say goodbye to our beloved Viking and dragon. We have seen them grow up and mature, seen them go through loss and hardship; but nothing is better than seeing them get their well deserved happy ending.
A top critic has stated that this movie is,"A satisfying adventure story with allegorical manifest-destiny allusions, The Hidden World reminds us that if butterflies were the size of horses, humans would surely ride them"(Brad Wheeler of the Globe and Mail). It truly is an amazing movie, it will make you both love and hate some characters. I have been watching them grow ever since the first movie was released and I find it very difficult to let them go. This trilogy makes my top three best that I have ever seen. I watch plenty of movies and wouldn't give it this much credit if it wasn't deserved; although if i had to rate it, I can't give it anything other than five stars. So on that note, I thoroughly hope you enjoy it.