2022 Spotify Wrapped
Spotify wrapped is an annual event that's released in early December right before the new year. This is when all your listening data is compiled for the end of the year and tells you things such as top artists, top songs, top genres, and how many total minutes you listened. This has become a big hit in recent years and almost everyone with social media ends up reposting their wrap to show their year in music. In many circumstances, it reflects the past year and may even tell a story or create nostalgia. Music is the key to memories. If you were going through a tough time and listened to a certain artist over and over you'll remember everything you went through and experienced, the same thing with all the good times.
For my Spotify wrapped my top artist was the Neighbourhood and my top song was "Nervous" by that artist. I think this resonates with my year so far because they're very calming and I think it was something I sought all year: a sense of peace. The most surprising thing about my wrap was how similar my top songs are and how it's mostly just two artists' songs. I thought I listened to much more than what was on my top.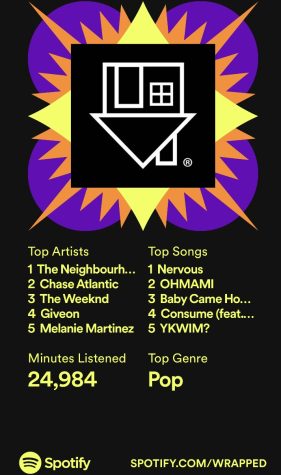 I asked one other person their thoughts on Spotify Wrapped, senior Kenneth Tran.
"My Spotify Wrapped is not very surprising, as it shows the songs I normally listen to," Tran said. "However, I thought other songs and genres would be there instead of some others."
When I asked Tran what song on his top list resonates with his year the most he chose his fourth song not his first. 
"The top song that resonates with my year so far is "Cherry Wine" by grentperez," Tran said. "It's just a peaceful song that goes with the flow, the romanticized aspect of the song is also reminiscent of my year."
All In all Spotify Wrapped is a good way to see how your taste may have changed and your musical journey through the year.
Leave a Comment