Why the movie "Bird Box" became so popular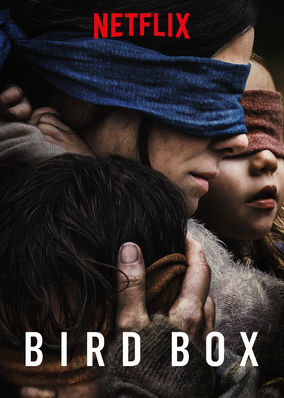 Hang on for a minute...we're trying to find some more stories you might like.
"Bird Box" is the new original movie that Netflix released on Dec. 12, 2018. It is also the movie that everyone has been talking about and recently, many meme accounts on Instagram have been posting memes about it.
The movie was inspired in the novel "Bird Box" by Josh Malerman published in 2014.
A mysterious force is ending the world's population, there is only one obvious thing: if you see the creature, (which it doesn't really show in the movie but is some kind of wind), you want to commit suicide. Unexpectedly, Malorie, the character played by Academy Award winner Sandra Bullock, finds love and hope, but that force only expands. She is forced to escape with her two children through a dangerous river to find the only place that can protect them, but if they want to survive, they must travel with a blindfold on so they won't see the creature.
Most people say it's overrated, in some part this is true but it is also a result of all of the hype Netflix gave before they released it. After that, people started making a lot of memes about this such as on Instagram and Twitter. For example this one says: "I know you saw my text," and she is wearing the blindfold pretending not to be listening or looking at you.
All the memes have this image or similar ones with Bullock wearing the blindfold in the movie when they are traveling through the river. It means that you are ignoring something or trying to ignore it because you "can't look at it" like in the movie you can't look at the creature.
So those ones who haven't watched the movie won't understand. I actually watched it because all of the memes I was seeing so I just wanted to understand them. I felt a lot of people watched the movie because of the same reason.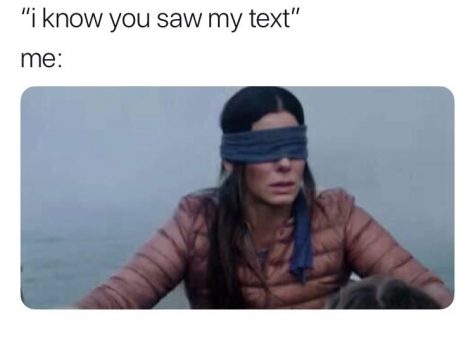 The critics of the people divide in two groups; the ones that loved the movie and really enjoyed the performance of Bullock and the ones who said not even her performance could save the film.

This is the critique of Rotten Tomatoes: "Bird Box never quite reaches its intriguing potential, but strong acting and an effectively chilly mood offer intermittently creepy compensation."
The tomatometer is 62 percent and it says the average rating was 5.7/10, the audience score was 62 percent liked the movie and the average rating was 3.5/5.
"It was an interesting movie but I was expecting more, I was hearing about it a lot so that's why I thought it was going to have an unexpected turn," Lara Hemberger, a sophomore at Imagine Prep Surprise said.
Hemberger thought it was a little disappointing but she still enjoyed the movie since Bullock is one of her favorite actresses.
"I like some part of the movie, I didn't like the ending though, since it has nothing to do with the ending of the book the movie is based on," Ethan Kriesel, a junior at Imagine Prep said.
Everyone has different opinions on this film. We thought that was really entertaining, maybe we had big expectations, but overall we really enjoyed it. I usually take my phone while I'm watching a movie and this time I didn't even look at it for a minute so this must mean I was really paying attention to it. We would give 3.5 out of 5 stars. It made a huge impact on social media, everyone was posting and commenting about it, encouraging people to create memes related to it and with it encouraging people to watch the film.
If you haven't watched yet, give it a try and tell us what you think about it!