8th Annual 'We Scare Hunger' Food Drive
Imagine Prep's Eighth annual 'We Scare Hunger Food Drive' took place on the week of Oct. 30. This food drive encourages students and staff to donate canned goods to their teachers, which go to St. Mary's food bank here in Surprise. 
Megan Werner, a high school teacher at Imagine Prep, was responsible for preparing and executing this food drive.
"I coordinated efforts with St. Mary's Food Bank in Surprise as well as with the service learning organizations on campus to make this year's food drive a success; this involved things like obtaining donation boxes, organizing daily collections efforts, keeping accurate count records, and facilitating the donation pick-up," Werner said. "I took care of purchasing and distributing awards for the classes that brought in the most donations to students. I also brought in food items for donation."
Werner and the middle school student council created flyers and posters around the school. She and Ms. Zaynor also made a script to mention on the announcements and sent daily emails to the staff. 
"I created and updated an infographic with class standings and worked with Mrs. Robinson and Ms. Zaynor to get this infographic posted on Schoology and in the announcements to help get the word out to more students and staff," Werner said.
Werner stated that she was pleased with the results of the food drive. She believes the school's effort will help make a difference in our local community.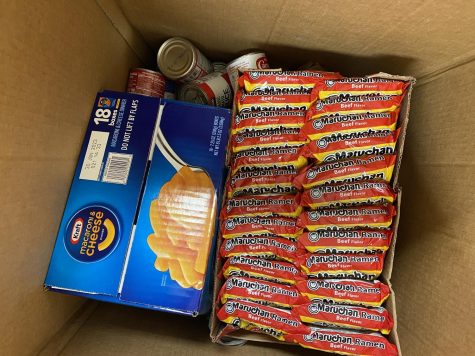 "The food drive means a lot to me personally. While growing up, I didn't always know when I would have my next meal or where it would come from," Werner said. "This feeling is something I hope no human, especially children, has to experience."
Last school year, our campus brought in over 3,000 total items. Werner hopes that students at Imagine Prep can bring in 3,000+ total items next year. Werner would like to try and push our campus to bring in 5,000 total items for the 10th annual food drive.

"I think revising the awards to having daily prizes, and then one overall award would help motivate people to bring in items more consistently throughout the week instead of on the final day of the drive," Werner said.
Michele Pelletier, a high school and middle school English teacher at Prep, was asked about her views on the food drive. Her class had the highest amount of donations in all of high school.
"I helped to motivate my students by bringing in some food myself and sending my students smack talk emails to try to step up their game," Pelletier said. 
Pelletier led by example by bringing in some canned goods every day. She and her class talked about the impact the donations would have if they could get enough in by the short time frame.
"The food drive is a way to give back to the community and to help those in need of a little extra help," Pelletier said. "I am so proud of all of the students who contributed. I almost cried when one of my middle school students came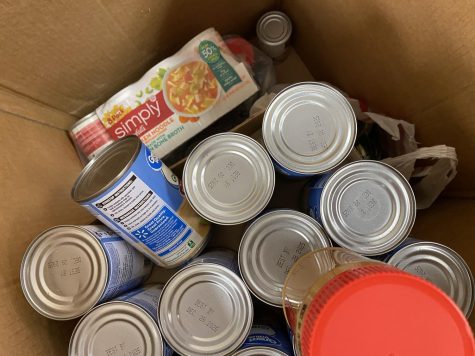 down the hallway with a cart full of non-perishable items."
Pelletier mentioned that her first hour high school class with five students is small, but mighty! 
"I would love to see more involvement from everyone next year! I know we can scare hunger even more than we did this year," Pelletier said.
Many people love that our community comes together as a school during this time to allow the students to exhibit what it means to be people of character. 
One thousand-five items were brought in for this year, making
it another successful food drive!
We scare hunger food drive is significant to many people for many different reasons! Hope to see you participate next year!
Leave a Comment