Minecraft Prom
Since Covid-19 ended many social gatherings with one being school proms, some senior students wanted to help create another prom for some students at our school by holding a prom inside of  Minecraft. Senior Tristan Dowse and a few of his friends decided to hop on Minecraft and start building a hotel building to hold this prom.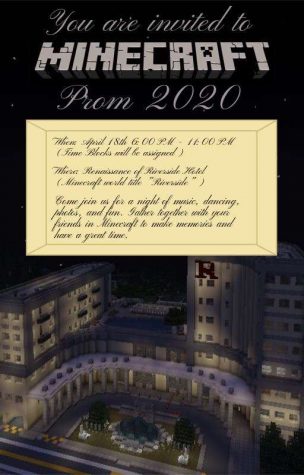 This prom took place on April 18, which is the same day regular prom would've been on and it included calling and hanging out with friends via Zoom. 
"During Minecraft Prom, there will be the opportunity to see friends via a Zoom call, there will be music played through the Zoom call as well, and on top of that, there will also be the opportunity to take in-game screenshots as well," Dowse states.
This prom is a way to create memories with your friends and have a good time during this crazy way of life. 
"We understand that this won't be able to provide the full experience of a regular prom but to be honest that wasn't the intention," Dowse stated. "We just wanted to create something that will get people together virtually and create a memory." 
Overall, this prom was a success for Dowse and the other seniors with the idea. A total of 15 people came which might not seem like a lot, but everyone had fun and this will be a memory everyone will look back at. 
One of the people who attended was senior Nicholas Jeffery who had a great time. 
"It was great, it was the first time I've been able to see/hear from all my friends at once since the closures! It was a great time we had, and very well made," Jeffery said. 
Obviously not every high schooler going to regular prom attended the Minecraft prom, but this was a great night to remember and the people who didn't come missed the opportunity to hang out and have some fun.
"Even though the real prom was canceled, this was at least something, right? And, worst case, it was just a reason to hang out with everyone," Jeffery states. 
Although Covid-19 is ending all these fun events doesn't mean we should let it stop us from having fun with friends and creating memories. During this time is a great opportunity to get creative and think outside the box and still create fun memories to remember.