Spencer's Place Opens Despite Setbacks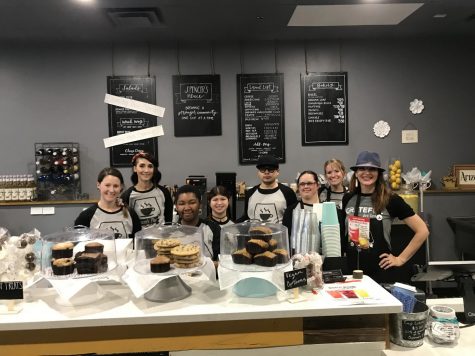 Last fall, we previewed Spencer's Place, a coffee shop in Surprise dedicated to hiring individuals with cognitive disabilities. After months of renovations and hard work, Spencer's Place went through a soft opening and finally opened to the public on Feb. 22nd.
It was pouring rain that morning, but the Spencer's Place team did not let that slow them down. All of their customers that day were greeted with enthusiasm by Racquel Crosby, one of the Spencer's Place employees, who says that she is most excited to be a barista.
"Part of the process is learning how to be yourself and learning how to become a part of the staff here at Spencer's," Crosby explained.
Crosby explained that she's received helpful, on-the-job training from Founder Karin York and various job coaches, and it shows in her professional and ready-for-anything demeanor. This professionalism used by each employee makes the service personal and efficient.
Spencer's Place was packed on their grand opening, but their open and spacious seating area allowed for the stream of customers. That energy has yet to slow down; the coffee shop has had customers in and out its doors daily.
One of those customers is Josh Millage, who is a junior here at the Prep. Millage has been to Spencer's Place three times with his family since opening and plans to remain a consistent customer.
"I like Spencer's because of the atmosphere," Millage said. "The drinks are great, and the employees are super nice… It's the cutest little coffee joint I've been to in a while. The drinks and desserts are great. I truly recommend it."
Spencer's Place offers a variety of menu items, from cookies and bagels to lemonade and coffee. There are even a few keto, gluten-free, and vegan pastry options! If you are interested in visiting Spencer's Place, they are open Monday-Saturday, 8 A.M. to 4 P.M. and are located at 15341 W. Waddell Rd. Surprise, Az 85379. If you're in the mood for a coffee or a welcoming place to get some work done, Spencer's Place may be the place for you!
Leave a Comment