Blast from the Past
Travel through time at the 2019 homecoming dance
The sun light shines down and now it's time to travel into the past.The clock is ticking and in a second you are in one of the ballrooms in the 50s. Drive-In, Jukebox and disco balls can all be seen as you travel through the decades in only one night.
Like a tradition, this year the homecoming dance is going to be held on Thursday, Oct. 24 from 7 p.m. to 11 p.m. at Uptown Alley. If dancing is not your favorite thing, you can play bowling or eat some of the food they have to offer. This year's theme is going to be the decades, from the roaring 50s, the revolutionary 60s, the psychedelic 70s, to the crazy 90s.
The homecoming dance is a high school only dance. This means all grades, freshman to seniors, are allowed to come and enjoy the fun filled night.
Boys and girls alike can plan something cute to ask that special someone to the big dance. If having a date doesn't seem like the option for you, just come and enjoy the music and fun night with your best friends. 
Be on your toes because you never know when you might be asked to homecoming!
You might be surprised like junior Lucia Sancho, who was asked by junior Christopher Albertson with a special poster.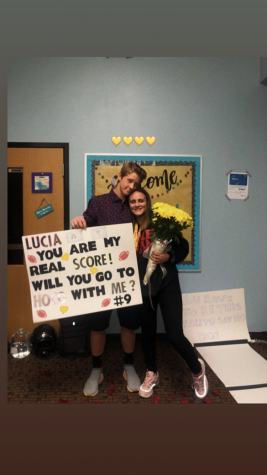 "I was so excited, in that moment I felt special," Sancho said.
Albertson covered the floor with rose petals and made two posters to ask Sancho to be his date for the dance. Homecoming "proposals" like these are becoming very popular.
Prior to Homecoming night, be ready for Homecoming  nominations. It's a tradition every year. There are two junior nominees for prince and princess and two seniors who are going to be our  Homecoming king and queen; maybe this year could be your year. The winners will be announced at the homecoming dance.
For this year, spirit week every day is going to be a different decades
"Two years ago we decorated the school and the dance location with balloons and streamers for spirit week  and it looked really nice, it made the school pop out and people really liked it," Angelica Pelaez, the new president of the student council, said. "But this year we want to try to do better, we are going to stick more with our theme, we want that people are transported back in a different time."
 Homecoming is a big tradition for American high schools, some schools spend a lot of money on it and they have a very huge budget, to spend on decoration food and music.
The music entertainment is going to be provided by a fantastic DJ that is going to play a throwback's compilation with the best songs of the 60s, 70s, 80s, 90s, and obviously our music, the great 2000s.
Our student council is doing a great job this year and they want to invite everyone to enjoy this fantastic night that is going to transport us through time.
So are you ready for this Blast from the Past?