Five Feet Apart Movie Review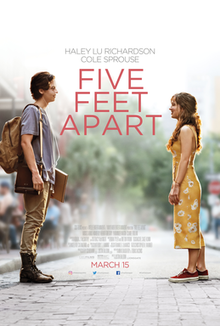 Five Feet Apart is a romantic drama film released in March, 2019. It stars Cole Sprouse and Haley Lu Richardson as the main characters. So far, the movie has received very mixed reviews and made $69.2 million at the box office on a budget of just $7 million.

Five Feet Apart is about two teens that have a genetic disorder known as cystic fibrosis (CF). CF has no cure and the average life expectancy of people with CF is between 42 and 50 years old in the developed world. These two teens, Stella Grant (Haley Lu Richardson) and Will Newman (Cole Sprouse) eventually fall in love as they grow closer, even though Stella disliked Will at first. However, CF patients are strictly kept at least six feet apart to reduce the risk of cross-infection since contracting bacterial infections from other CF patients can be life-threatening. The rest of the movie goes into how the two teens in love have to always remain at least five feet apart.

Five Feet Apart got an average rating of 5 out of 10 on Rotten Tomatoes, 3 out of 5 on Common Sense Media, and 7 out of 10 on IMDb. The responses from the CF community has been mixed, with the Cystic Fibrosis Foundation supporting the movie and welcoming the chance to raise awareness about CF. But others in the CF community had an issue with the film depicting medically dangerous behavior (Will and Stella held hands and tried to touch whenever they could in the film) and with CF being romanticized.

I think that Five Feet Apart is a tragic love story and raises awareness about CF. I never knew about CF until I watched this movie. I liked the themes in this movie and in my opinion, this movie gives a good reminder that we should be grateful on being able to touch our loved ones because some people, such as those with CF, can't even hold hands or hug their loved ones. This film reminds us of the importance of touch and physical affection. I rate the movie a 3/5 though because it depicted behavior that´s dangerous for people with CF and seemed to romanticize the disorder. 
Leave a Comment