Imagine Prep's Regional Spelling Champion
Christian Hunter is a 7th grader at Imagine Prep. When he found out about the spelling bee contest he started training for it and his dream of winning came true.
Hunter won the title of Imagine Prep Spelling Bee Champ, and then went on to be named the spelling champion of Imagine Schools Southwest Region.
Two weeks ago,  Hunter won the spelling bee against other students in middle school, one representative from each class, in total 12. After winning the school bee on Jan. 24, he went to the regional spelling bee where he won and had all the support of the school from Spelling Bee Coordinator and sixth grade English teacher, Rachel Kelley and Principal Chris McComb.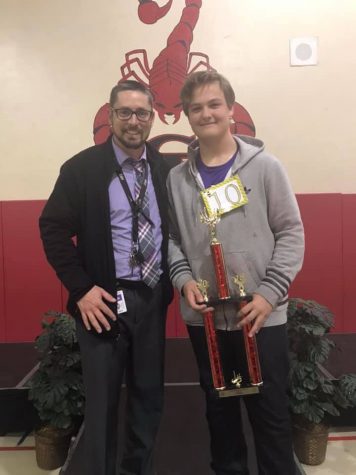 Hunter has always trained at home with spelling and speech in class. He always found spelling very easy to memorize and practice; before and after the competition he was super nervous, but for him, winning was the best part and he was proud of himself.
"It's always been very easy for me to memorize so I always liked," Hunter said.
Hunter said the school was a point of reference for him, especially Kelley, who was with him for all competitions. 
"I hugged him and encouraged him before the competition I was there for him and I could not be more proud of him," Kelley said.
After winning, spelling has become even more important to him and if he were to create a spelling club in high school he would be really happy to be part of it and continue his passion.