Teacher of the Year goes to…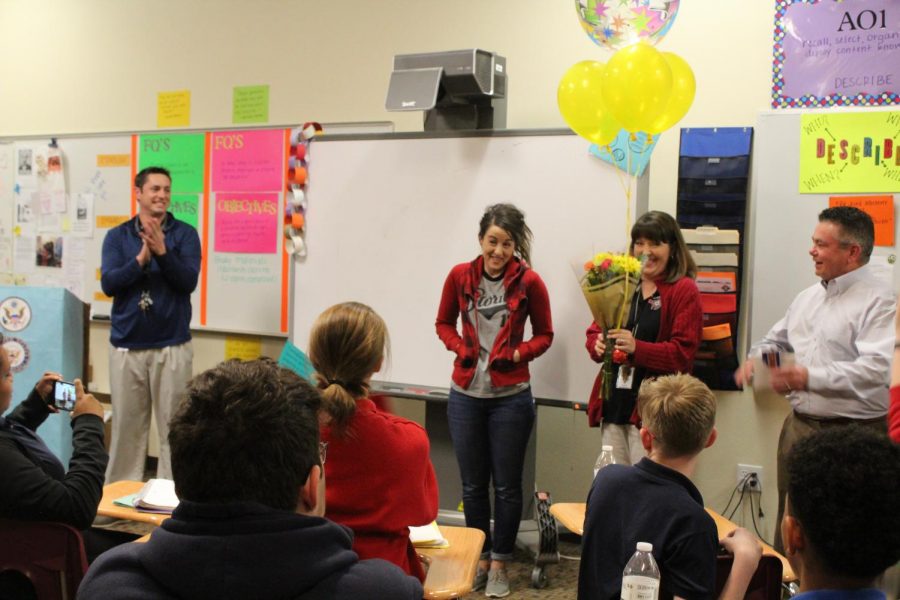 It's not a surprise to know that teachers do a lot, not only for their students but for their staff members and community as well. They work tirelessly to help students, like me, succeed in school and hopefully in life.
The best thing about teachers is they don't need to be constantly rewarded for all the work they do; most of the genially enjoy what they do and the only reward the want is to see students be successful. But, there is one award that Imagine prep and all Imagine Schools recognize, the Teacher of the Year award.
This year, our school awarded history teacher, Alexa Pupo with the title, Teacher of the Year, and she couldn't be more excited. Pupo had won the award previously, but it was her first year teaching so she feels even more honored to receive it after nine years of teaching.
"It feels pretty cool because I won my first year teaching and that was really awesome and super cool but also felt like I hadn't necessarily accomplished a lot in my own career. So I think it was just cooler this time to feel like I really had worked hard to contribute to our campus and the growth of our campus and the mentorship of our students and our teachers," Pupo said. "I just feel older and more seasoned now."
The award itself really shows how Pupo effects not only her students but her staff and the community around her.
"On our campus and within imagine as a whole, Teacher of the Year just kind of embodies someone that we feel is obviously practicing best instructional practices in the classroom but also really embodying imagine values particularly like integrity, justice, and fun," Pupo said.  
Pupo had to be nominated by one of her fellow staff members and had to be approved by the members of leadership board. Once she had won for our school, she then put together a portfolio and worked through an application process so be considered for Teacher of the Year, at the regional level.
In a staff meeting, Pupo had found out by her staff members that she had won Teacher of the Year for our school, but the way she found out that she had won at the regional level was pretty special.
"They brought all my students into my classroom one day and then our regional team came in, so that was pretty cool," Pupo said.    
Now that Pupo won the regional title, she will now be considered for the title at the national level.
"I got to refine my portfolio and it's sent off to the national team and then they also did a video tape. So they will see my video and my portfolio and then they assess me against the other candidates, I think there are five or six other candidates," Pupo said.
To be honored on behalf of school is awesome but to be honored at the regional level is outstanding. Pupo plans to use this experience to reflect on how she works with her students and her staff.
"We all work so hard for each other here and that's why I feel like it's not just a representation of me but it's just a representation of all of us. So I think like it's been a really good way to focus on how I'm rowing the boat for my peers and our students and our parents and I think it's just been a good way to really evaluate all the work we've done and just really be proud of it," Pupo said." "So I think that's something moving forward, it kind of help me refocus on 'we really have come a long way and we are moving in the right direction.'"
We couldn't be more proud of Ms. Pupo and we are all very excited to see her be honored for all the outstanding work she does for our school. Congratulations Ms.Pupo, the 2017-2018 Teacher of the Year!