The story behind the mask
The event of the school year always seems so far away. Until it's right around the corner. A month away and students are already planning pictures and transportation, outfits and masks, and where and when they're going to eat.
Music you can dance to, with a partner or jamming with your friends. Long, nice dresses and dark suits. Masks concealing your identity. Prom is an exciting time filled with friends, love, elegance and, this year, mystery. Here's a sneak peak at what's to come.
This year's prom, a masquerade with a theme of "Behind the Mask", will be located at the Renaissance Hotel in Glendale on Saturday, April 7 from 7 p.m. to 11 p.m.. Tickets are selling during first lunch and in the front office from Feb. 19 to April 6.
David Keesey, a junior, is carefully planning out the event with help from his fellow student council members. Extreme thought is being put into everything, including the theme.
"The masquerade theme brings the prom to a very formal and elegant scene and with the title, 'Behind the Mask', it creates a mysterious environment, which gives the students an exciting motive to want to attend," Keesey said.
With planning such a huge event, there are many challenges that the committee had to overcome. Keesey touched on what this was like.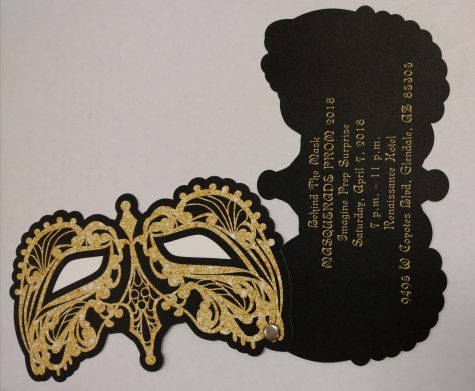 "Personally, it was just starting to plan the whole thing," Keesey said. "I have never planned anything this big before, so that alone was very nerve racking. Once we got the ball rolling, we just had to make sure we are being productive and effective with everything we are purchasing. Now, I think all of the prom committees and I have gotten a very good start, and definitely are where we should be with planning this huge event."
Keesey explained that prom is coming together very well.
"It really is," Keesey said. "Everyone is working together well, and when something needs to get done, it gets done quickly and effectively."
As always, student council has many great things planned that will lead to prom, such as an assembly and spirit week. Keesey explained that, although not yet decided, these events are always being considered and planned out.
"We have had a lot of things talked about," Keesey said. "An assembly for sure, and possibly some activities during the week of prom during lunch! Those [spirit week] days are still being determined and discussed, but we plan to make it super fun and have different themes than there has ever been in the past."
Although a month seems like a long time away, prom will be here quicker than you'd think. So you better buy your masquerade dress or suit quick and your tickets quicker. And stay tuned for the events that will lead to prom night.