Citizen Soldier's Newest Album Introduces A Whole New Perspective on Our Reality, and It's Way Too Relatable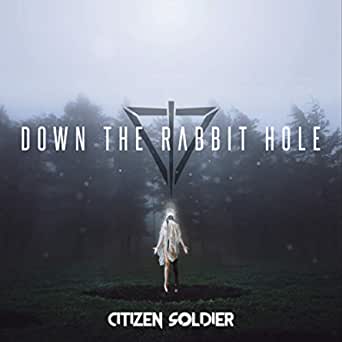 "Down the Rabbit Hole", the newest album by rock band Citizen Soldier, has finally been completed and released after about a year's worth of waiting, and it couldn't have come at a better time. The album was released on Nov. 20, 2020, however the band released lyric videos of the new songs periodically on their YouTube channel, which has the same name as the band. Since Citizen Soldier isn't a very well-known rock band, how about some context to help you understand who they are?
Lead vocalist, Jake Segura, began the band Citizen Soldier after writing the lyrics to one of their earlier songs, "Let It Burn", on a napkin in a hospital bed after an attempted suicide. After the experience, he decided to devote his time towards writing music that could help combat the stigma of mental illness as well as assist those struggling with mental health issues themselves. The team tends to write music that covers a variety of different struggles and topics with darker themes in order to provide a voice to those who feel they are alone in what they deal with and experience. By combining their powerful lyrics with even more powerful sounds, the band gets their messages across to thousands of people worldwide. Personally, I find the band to be very inspiring and relatable, since they touch on topics most musicians may try to avoid out of fear. And their new album opens up a whole other world to mental illness, shining light on the darker area people live in.
Now, before we jump into the album review itself, here is just a quick warning. The album touches on a variety of dark, sensitive topics such as addiction, loneliness, suicidal thoughts, toxic relationships, etc. so be careful if you are sensitive to such topics. I would give this a 13+ rating, since there is some mild language as well, however it's nothing too graphic. Now, on with the review!
There are 10 songs in the new album, beginning with the song "My Little Secret", which discusses the burden of keeping a deteriorating mental state a secret from others and the struggles of keeping that side of you hidden, as well as how it feels to fight those feelings. This song really hits hard for many, since it exposes a side most try to avoid, and the expressive vocabulary and hard-rock feel drills the message deep. Their lyric video also helps provide visuals to gain a better understanding of the message, as well as make the song feel more relatable and human, in a way. Most of the songs are portrayed in a similar way, with a flashy, expressive lyric video, background music that shakes you to the core, and lyrics that are too relatable to be true. Citizen Soldier does an excellent job painting a picture of how it feels to struggle and fight with the darker side of mental health and the difficulties that come with it, which leads people to empathize with those messages and gain a better understanding of those experiences.
Since the band posted their music videos on YouTube, many of their fans had something to say about the new album, though it was mostly supportive and encouraging.
"As a writer who suffers from bouts of depression, I adore the line 'I'd like to speak of love and all its glory, instead I write it out in sadder stories'," commenter Drax152 said on Citizen Soldier's music video for their song "Gunshot Lullabies". "[I had] huge anticipation for this song, and I absolutely was not disappointed." Many viewers and followers were ecstatic about the new release, and numerous fans appreciated how the band's lyrics put their thoughts and feelings into eloquently worded expressions.
"I feel like I'm on an emotional roller coaster with you guys," commenter Cerberus Dogs said on the band's music video for their song "Mess of Me". "[Your] songs just relate and it really puts my feelings into words."
There are many other comments just like these sent across each of the lyric videos Citizen Soldier has made for their new album, proving how the band makes their music relatable with ease. They have a natural talent for reaching the hearts of their fans and listeners, and I look forward to seeing what they have to say next. 
Overall, I would give this album a 10 out of 10 for relatability, good messages, and all around amazing music. I can't pick a personal favorite from the album, but my top three are "Sacred", "The Cage", and "Hope It Haunts You". I feel like I can really relate to these songs on a more personal level due to my own experiences, but they are all really well done, so be sure to check out the album, which is available on Spotify, YouTube, and wherever else you listen to music. Fair warning, though, for you may end up relating to it more than you think.
Track List: 1. My Little Secret, 2. Mess of Me, 3. Gunshot Lullabies, 4. Hope It Haunts You, 5. I'm Not Okay, 6. Make Hate To Me, 7. Forever Damned, 8. Would Anyone Care, 9. Sacred, 10. The Cage 
View Comments (1)