The Amazing Vozza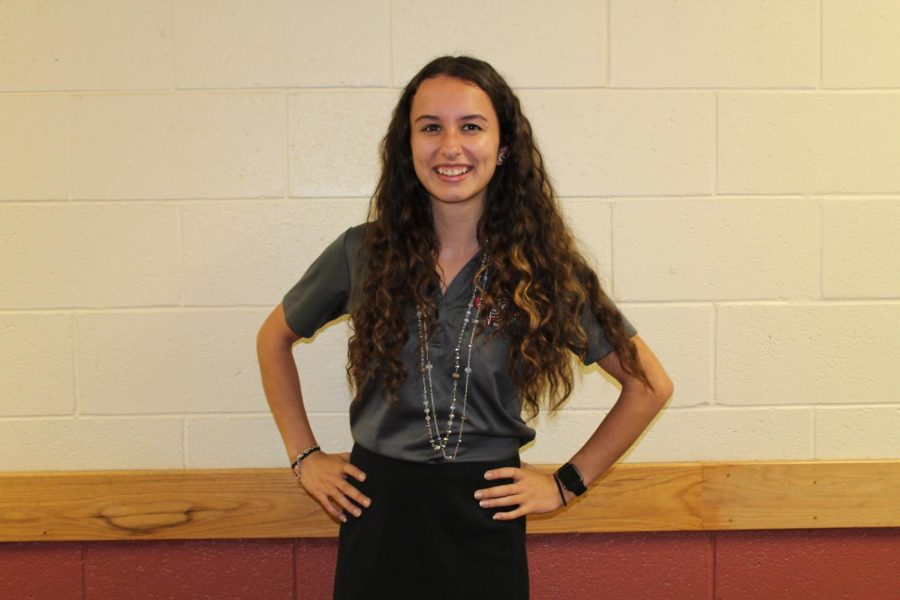 Superheroes are, without a doubt, amazing. Take Spiderman for instance. He always finds a way to save the day and triumph over evil, all on top of balancing his life as a normal high school student like you and me. Now that is amazing. But, sometimes you don't have to be bitten by a radioactive spider and save the city from impending doom every day to be considered amazing and one student here at Imagine Prep is the perfect example.
Alicia Vozza is a high school senior at Imagine Prep and one of the top students of her 2018 graduating class. Highly academically and athletically involved around campus, you've probably heard her name at least once or twice around the school halls over the announcements. What really makes her stand out among the crowd though are the outstanding achievements she has made over the course of her academic career. Ranging from a Letter of Commendation for her PSAT scores to the scholarship she obtained from the National Hispanic Recognition Program, it's no surprise she has become an icon and a figure that many respect and look up to around the school.
Among the many achievements and recognition she has received, Vozza fondly recalled the proudest and most memorable accomplishment of her high school career, describing the significant impact it had on herself as a student and her life as a whole.
"My proudest moment was when ASU invited me to a Senior Scholar Dinner at Barrett, and offered me a total of $66,500 as a scholarship to attend the honors college," Vozza said. "ASU is one of the biggest colleges in the country, so to be recognized by them is a great honor. I love how close it is to home because I'm a fifth generation Arizonan so all my friends and family are here as well."
Chris McComb, principal of Imagine Prep, added his beliefs on her work ethics as a student and why he believed she has been able to accomplish all that she has at such a young age.
Along with being an incredibly well-respected individual at the school thanks to her academic standing, she is also beloved by many around the campus for her can-do, sunshiney attitude. McComb expressed his deep admiration for the way she carries herself as a person and why he believed she stuck out as not only a star student, but a star individual as well.
"She's one of the best! She has a great head on her shoulders and it shows not only in her studies, but when you speak with her," McComb said. "She is well grounded and thoughtful, she listens well, and cares for her friends and family."
Ryley Bates, high school senior at Imagine Prep, describes her first encounter with Alicia and how she has come to know her over her time here at the Prep, also expressing the great deal of respect she has toward Vozza as both a person and a fellow classmate.
"When I first met Alicia last year, I was intimidated by her because she was so smart and put together. In fact, she still is," Bates said. "But now, after knowing her for as long as I have, I can see how nice and funny she is, too. She has a genuinely beautiful soul that lights up her future."
Savannah Boren, another high school senior at Imagine Prep, stated what she believed made Vozza truly unique among the rest of her peers around the school, expressing her great anticipation for what she'll accomplish in the distant future.
"Alicia is such a talented and kind-hearted person. She always helps others and she is so smart. I'm surprised she hasn't graduated yet," Boren said. "She has such zest and power! She will go far in life and I'm excited to see where that is!"
Paulette Rivera, yet another high school senior at Imagine Prep and fellow peer to Vozza for the past four years, expressed her fondness for Vozza as well.
"Not only is Alicia incredibly intelligent, but she's also a very sweet and loving individual," Rivera said. "She has never been anything less than kind and I genuinely admire both her motivation and work ethic."
One of the hardest things about being a student is maintaining the motivation to continue to keep up with your studies. One of the biggest things that Vozza's peers admire about her is her incredible drive and sheer motivation to keep doing greater and better things. Vozza recalled what she personally uses as her motivation to push her through the rigorous Cambridge curriculum the Prep has to offer, as well as the obstacles she faces in her life.
"My family keeps me motivated because my parents and grandparents worked to give me an amazing life, so I wanted to be able to work to get a scholarship to cover college," Vozza said. "Growing up, I was taught if you put yourself into something and are willing to give enough blood, sweat, and tears, you can do anything. My family is very passionate and I would like to think that I inherited that from them because I believe that, if you're going to do something, be the best."
McComb said that Vozza's work ethic can't be be matched.
"In my opinion there is no substitute for hardwork, perseverance, and diligence in setting and obtaining your goals," McComb said. "Alicia is a motivated and hardworking student who is willing to put in the time to achieve her goals. It's impressive how much she has invested in herself and her future at such a young age."
Like Superman and his kryptonite though, even superheroes have their weaknesses. While many see Vozza as a "super-student," she reflected upon what she believed were her weaknesses as a student and the things she struggles with academically, something even her own peers have a difficult time believing she has.
"As a student, one of my best traits is that I can't turn an assignment in unless I know that I worked to the best of my ability," Vozza said. "My worst trait, however, is that I will procrastinate until the very last moment because I like to tell myself it's to get the creative juices flowing, but I just have a short attention span. Academically, I also struggle with English because it is so opinion based, and any answer could potentially be right answer if you argue it the right way. I like one clear cut answer."
With such a rich academic legacy behind her, it's no wonder peers and teachers alike believe that Vozza is destined for great things. Vozza reflected on where she sees her future heading.
"I plan to attend ASU Barrett at the Tempe campus. While I am undecided for a major, I am looking at aerospace engineering with a astronautic focus, and biochemistry," Vozza said. "In ten years, I have no idea where I see myself because, if I'm being honest, a couple months ago I was set on going out of state. I know I want to go into a STEM field, but especially with going to a large university, I have an unlimited amount of options and I don't want to make a decision right away, especially when I don't even know half of what's out there."
McComb also added his vision of what he sees in Vozza's future, clearly expressing his belief that she is destined to continue to achieve greatness in the world.
"Alicia is a leader. I would expect her to be a leader of people in whatever capacity that she chooses to pursue, whether that is in the armed services or otherwise," McComb said. "I also see her continuing to give back to her community in meaningful ways. She has a service heart and that should only continue to grow as she grows."
Rivera also shared where she sees Vozza in the distant future, agreeing that she is on the path to greatness and accomplishing even greater things than she already has.
"I genuinely see Alicia Vozza becoming the first female president and I'd undoubtedly vote for her and support her," Rivera said. "She's got all that it takes to lead a country. I really mean it."
Even if she hasn't necessarily saved the entirety New York City from evil aliens or the entire planet earth from imminent doom, the academic legacy she is leaving behind as she nears the end of her high school career in conjunction with her heart of gold have made her a hero in the eyes of both her peers and the staff at Imagine Prep. She has set an incredible example to the students here at the prep and all that she has accomplished has inspired many more to follow in her footsteps in hopes of achieving that same greatness as her someday. If there's one thing we can all learn from Alicia Vozza, it's that you don't necessarily need to fly and wear a spandex suit to make a big difference in the world and sometimes, the greatest of heroes can be found right in your school hallway.