Talents @ Imagine Prep Surprise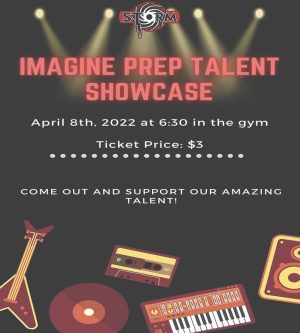 On April 8 the Imagine Prep Talent Show was held in the Gym. It was hosted by Seniors JT Head and Carlie Hess and organized by Jennifer Farra and her DECA class. Entry Tickets were $3.
The winner of this evening was Sophomore Haley Cowan. Junior Melody Jackson-Chatman took second place, Sophomore Haley West took third place.
Freshman Kristiana Corrales took over a large part of the organization and described it as hectic at first.
"We did not only have a talent show going on, we had other projects in class we are working on as well," she said.
The enthusiasm was very small at first, but in the end everyone was committed. One of the problems Corrales described was the raising of a fundraiser.
Corrales was very stressed about the talent show.
"I was scared, what if these people don't show up  or what if we didn't have an audience? I was just so nervous about every little thing but the whole thing came out amazing and it shocked me honestly," Corrales said.
Overall the talent show went better than expected.
First Place winner, Haley Cowan sang Rescue by Lauren Daigle.
"I was really happy and surprised because I thought a couple of my other friends did a lot better compared to me," she said.
The last time she performed was in sixth grade and even though that was years ago, she didn't have any stage fright.
"I used to be really shaky, but it just took a little bit of calming down and I was good," she explained.
"I've been singing since I was two years old maybe," the first place winner, Cowan  said. "I'd like to do it professionally if I could have the opportunities."
Jackson-Chatman played her way up to second place with her bass guitar.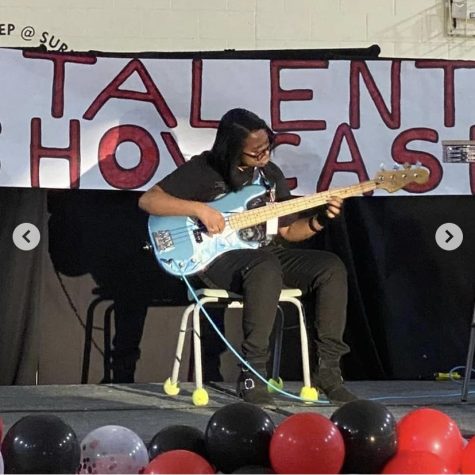 "When I play it, it's almost like a super power once I pick it up and get into 'The Zone'," Jackson-Chatman said. "When my place was announced I was really shocked. I immediately looked at my friends and family just to see the looks on their faces. I was so grateful when I received the award and it was such a pleasure to receive it."
When she found the announcement for the talent show, she was rather intrigued. 
"It came up out of the blue when listening to the announcements. I knew at that very moment that I should join the talent show!," Jackson-Chatman said.
She didn't have any specific expectations for the show.
"I just saw it as a task that needed to be completed and for it to be done to the best of my ability."
One thing that surprised her was the feeling of comfort while performing in front of an audience. 
"I expected it to be more frightening, but it wasn't," she said.
"Hearing the noises of the crowd was so reassuring and knowing that I was in the spotlight didn't affect me. I'm usually an introverted person and to know that was in me all along was truly a gift. I surely hope to have more opportunities like that in the near future! After all…music is in my name!"
Leave a Comment