Drawing to Life, The Kissable Moose
Mistletoe the Kissable Moose  is a heartwarming story following an adorable toy moose that had been thrown in the 'Broken Toys' bin. The toys in the bin anticipate not having a special someone to love them, being Christmas Eve. We follow Mistletoe as this undesirable fate seems to fade away with unexpected events. 
This endearing book was published on Dec. 3, 2021, and was illustrated by a student at Imagine Prep. Sophomore Elizabeth Powell, was interviewed about her story on creating Mistletoe the Kissable Moose.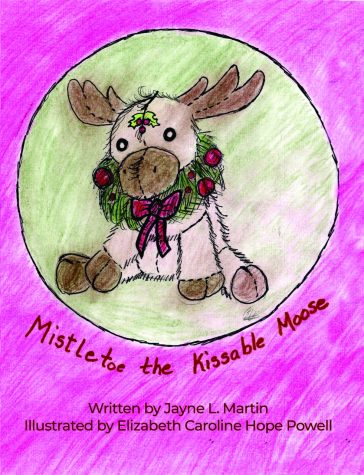 Powell shared what it was like emotionally and physically to illustrate this children's book.
"I was excited about it, a little stressed as well," Powell said. 
Powell also mentioned how the author strictly told her there was going to be no snow in the story. Forgetting that statement, Powell proceeded to put snow in almost every one of the images drawn. 
"I didn't want to be boastful, but my mom said it was good to feel proud. The author was very proud of me too," Powell said. 
Even with an accomplishment such as this at her age, Powell still remained humble. 
Powell shared that she had a great fear of artist's block. 
"It was kind of daunting. I was afraid of messing up and didn't want to restart," she commented.
She also mentioned that all the pages were hand-drawn, not digital. 
"I don't really draw stuffed animals or moose; I usually draw people. But when I drew Mistletoe, it made me happy every bit," Powell said. 
Powell shared how she and the author came together to create a design for Mistletoe. She said the author presented her with three stuffed moose; one was wearing a sweater, one big one, and one little one. With the three physical references, the two of them agreed on a concept. 
Powell was asked if illustration is something she will continue to pursue.
"I've had writers' block for a while… I'm actually illustrating a book for my mom," she said. 
Powell shares that she writes and illustrates her own books. 
Mistletoe the Kissable Moose is available on a plethora of sites not limited to Walmart, Barnes and Noble, and Amazon for about $20. The story is loveable and 100 percent worth a read.
Leave a Comment