Wind down and relax with students and staff favorite coffee shops in Surprise
Who doesn't love the feeling of relaxation? The warm tones and calming nature with the aroma of coffee beans filling the air. Coffee shops are some of the greatest places to go to just relax, so according to students and staff at Imagine Prep Surprise which coffee shops are the best? 
From smaller-owned businesses to larger coffee corporations, many at Imagine Prep have strong opinions about which one is the best. After conducting a survey via Google Forms, out of the 42 responses, 16 were for Starbucks, making Starbucks the overall winner.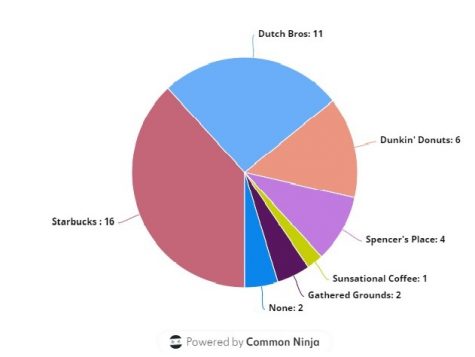 "Starbucks is my favorite coffee shop because it has a really nice and cozy atmosphere that makes me feel comfortable sitting at and getting work done, chatting with a friend, or reading a book," Junior Mark Barber said. "Its coffee is always just right, and they make it just the way you want it without mistake. There are plenty of pastries, soups, sandwiches, and more to snack on while you drink your coffee, tea, or even dessert drink." 
Dutch Bros came in a close second with 11 out of the 42 responses. Most people enjoy Dutch Bros because of their assortment of flavors and beverages and excellent customer service. 
"I just like the variety of drinks they have as I'm not really a coffee person but sometimes I do enjoy coffee, but they also have teas that are very good, they also have cool stickers," Senior Alexander Milizia stated. 
In third place is Dunkin' Donuts or Dunkin', with only six out of the 42 responses. Out of the responses the most common reason people love Dunkin' is because of their donuts, I mean isn't that a given? 
"Dunkin' is my favorite because the donuts and hot cocoa taste good," Mateous Tavitian, a sixth-grade student, stated.  
Another student also stated that Dunkin' offers sweeter coffee, which could be someone's reason to love or hate a place. 
"Usually I don't get coffee at places because I like drinks sweeter but when I do get coffee I like their sweeter coffees," Cacie Cortes, a freshman said.
Up next in fourth place, with four of the 42 responses is Spencer's Place. This one is my personal favorite. Many people love this coffee shop for the inclusivity and empowerment of people with special needs.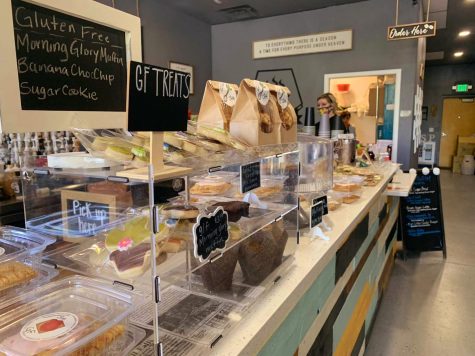 "Spencer's Place is my favorite because they employ and empower individuals with special needs," staff member Valerie Holmes said. 
Another staff member mentioned that even though they don't like coffee much, they like supporting places like Spencer's Place.
"It is my favorite because of the people. I'm not overly crazy about coffee but it's the idea of how Spencer's began and the people's hearts that work there," High school teacher Adelina Manore stated. 
I also really enjoy Spencer's Place for their frappuccinos and because it is a great company that shows no matter what, anyone can be capable of doing something! They are a great company to show that autism has no limits.
In fifth place, there was a tie between Gathered Ground's and having no coffee preference. Honestly, a pretty weird tie but I guess some people don't like coffee. 
"I like Gathered Ground because it just has really good coffee, and coffee beans," Aubrie Buldain, an eighth-grade student said. 
Another student wanted to express their hatred towards coffee as well because surprisingly enough not everyone loves coffee. 
"Coffee tastes like burnt rubber," Junior JT Head proclaimed. 
Last but not least is Sunsational Coffee, with only one out of the 42 responses, technically two since someone stated Gathered Grounds and Sunsational Coffee. 
"Sunsational Coffee is my favorite coffee shop because it is a locally owned small business. It is really close to the school, so it is pretty convenient to stop there on my way to work, or over my lunch period," Michelle Baker, high school teacher stated. "The owner has even come to our school before to supply teachers with a coffee cart during teacher appreciation week and conferences. I really enjoy supporting small, local businesses." 
Overall, Starbucks is students and staff at Imagine Prep Surprise favorite coffee shop but there are still many others to choose from. So, if you are wanting to try coffee for the first time, or just trying to look for a new place, maybe take some of these suggestions.
Leave a Comment