Thanksgiving Meal Boxes 2020
This November, NJHS is partnering with NHS to raise money and provide Thanksgiving Meal Boxes for Prep Families in need. Principal Chris McComb will be sending out an assistance request form in his community email. When filled out, the information is seen only by NJHS Advisor Gia Lowell, so families in need can get help with the utmost confidentiality. No financial information is requested and pick-up will be available on Tuesday, 11/24 from 9 a.m.to 2 p.m.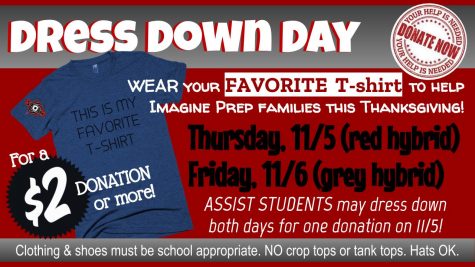 In order to fund these boxes, they have set up multiple ways to donate: for hybrid students, there will be a dress down day on Thursday, 11/5 and Friday 11/6 for a donation of $2 or more, students are allowed to wear their favorite t-shirt – clothing must be school appropriate and hats are allowed. Assist learners can dress down on both days for a donation on 11/5.
For all Prep students, there is a Raffle from 11/2 to 11/6 at 4 pm.
The prize is an Ultra- Lightweight Hoodie ($30 value) delivered to your door by contactless delivery – This will have one Middle and one High School winner. Raffle prizes are $2 for 1 chance or $10 for 6 chances. Chances can be purchased online at surpriseprep.org or in the front office. 
This next fundraiser is for everyone you could possibly think of. Krispy Kreme gift cards are being sold, each digital dozen costs $10 and will be emailed to you within two weeks of your order. The gift cards will have no exclusions or expiration dates and can be used nationwide (they make great gifts, too).
There is also a Baker's Dozen Bonus; if you order 12 digital dozen cards you will receive one for free- that's 13 dozen donuts. To order, send an email to Advisor Gia Lowell at gia.lo[email protected] with your name, phone number, and order amount (please write "Digital Dozens" in the subject box).
If you would like to give money without all the prizes or dress down days, physical donations are available now and can be given to the front office or your 1st-period teachers. Donations can be made from 8 am-4 pm on Thursday, 11/5 and from 8 am-10 am on Friday, 11/6. There is no limit to your donations, any dollar amount is acceptable, and they will even accept credit cards or checks. Collection bags are present so no bag or container for your money is needed unless you would prefer to have one. As of now, electronic donations are not set up but will be available soon.
Thanksgiving Meal Boxes are provided annually and we have given away more boxes each year. Just last year we raised a little over $1000 and we're about to fund 40 boxes, in 2018 we funded 35 boxes, in 2017 we did 30 boxes, this year we hope to fund more than 40 boxes but COVID-19 is affecting the fundraising put in place. 
Senior Mark Lowell, said this year could go great if the Krispy Kreme fundraiser and raffle go well.
"It is kind of hard to say right now, however, as we are in an unusual situation. I imagine we might have a greater need this year, but once again, it is hard to say. We need our school to band together and spread the word on these fundraisers. If everyone can find room in their hearts to love their fellow man and eat some donuts, then I think we will be just fine."
Last year Walmart Neighborhood Market was a great help, and every year the Surprise area firefighters help with nine to 13 turkeys and a variety of food that we use to help larger families. 
The president of NJHS, Riah Boyd, believes the meal boxes will go swimmingly.
"From my understanding, the Thanksgiving meal boxes have been a big hit in the last couple of years. I do believe if people in NJHS and NHS do their part and get out there as much as possible then we will still be able to get at least 40 boxes." 
This is Boyd's first year as president. This will be her first time being involved with the Thanksgiving Meal Boxes, despite this new role she still has high hopes for this operation and encourages people to participate by donating and joining NJHS or NHS.