No More Parking!
Are there no more parking spots left? Here at Imagine Prep Surprise we are a small school but we have over 60 student drivers including or very own Zachary Karnitz, a Senior and Varsity football player. Karnitz drives himself and his siblings to school each and every day.
Karnitz said that there are not enough spaces for all student drivers at the moment, but if Imagine schools keep creating more and more parking spots then maybe everyone will be able to drive to school. Karnitz also said that the waiting list for parking spots is very high in numbers and the school isn't doing much about it.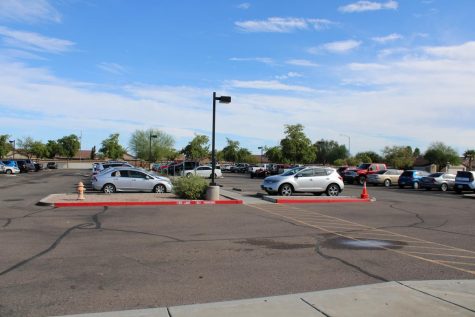 Karnitz said that he would enjoy being a little bit closer to the school, so maybe an option to be able to pick your parking spot that would be more useful to others.
Karnitz also said he loves the idea or thought of parking spots in the back of the school because some students are late some days because of where there parking spots are located.
"Yes, that would be great because that would allow more students to be able to drive to school and possibly make less people late," Karnitz said.
Karnitz said that, in all he loves his parking spot because he is close to his classes and is in a great spot, but wishes there were more spots for others. Karnitz also wants to give all the other students a chance at having their own parking spots.
Paola Crivello, a senior, also drives her two brothers to school everyday. And she loves driving to school but she had some opinions on the matter.
"I do believe that parking spots in the back of the school would be beneficial, because there isn't enough parking spots in the front of the building which makes some students procrastinate purchasing a parking pass," Crivello said.
Crivello really loved the idea of parking spots for a few different reasons, one of them was that when a student has to attend office hours most teachers open their doors at 7 a.m. and the front office doors open at 7:30, so the student drivers have to park then walk all the way around the school, if there were spaces in the back then that would save time and energy of the student drivers.