Imagine Prep students showing off their creativity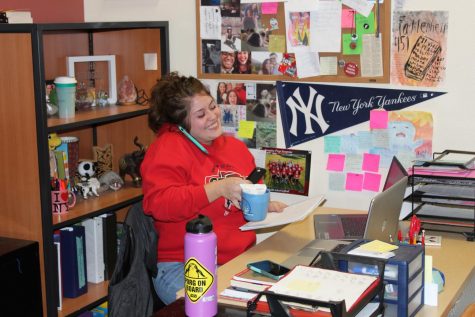 Do you appreciate good creative stories and love to write? Do you wish to share your creations with people who also appreciate writing? Come to Ms. Emma Franco's Creative Writing Club.
This year, there have been new clubs offering new activities for the students of Imagine Prep to participate in, such as: Asian culture Club, Photography Club and, one of the newest editions, Creative Writing Club. Franco teaches this club, but says it is also very student ran.
"The students want to have the opportunity to dedicate more time to writing," Franco said.
It also gives students who have a hard time finding the time to write at home and gives them the opportunity to write in class. The club welcomes all high schoolers to come join the friendly, creative atmosphere, where every student enjoys writing, just as much as the other.
"Students have the opportunity to have their stories published in the school newspaper [Chasing the Storm]," Franco said.
So, it can also be a very big deal for some students, having the opportunity for more people to see their stories.
"The best part about Creative Writing is being able to write down your thoughts", Franco said. ¨One of my favorite parts of creative writing, is the reading and seeing what other people are really good at.¨
Creative writing club can be a place for students to express themselves and show off their creative. Especially for students that have a deep connection with writing.
"A lot of times, people have a really hard time finding their words and sometimes it's more natural to go from mind, to page", Franco said. "It can be easier to just write your feelings, instead of verbalize them because, at that time, it's just you and your paper."
Freshman Izabelle Standford is the student leader of the club.
"[Writing] has helped me through some tough times, " Stanford said.
Stanford created the club because she likes to write and thought other people would find it interesting, too.
"A club was a way to get my voice and other people's voices heard," Stanford said. "I enjoy hearing other people's stories and use of prompts, how they want to express their creativity."
Students can sign up any time (no fees) and meetings take place in Ms. Werner's room (310), every Monday. Her room offers a comfortable environment and anyone can come.
"Students can show up as they please," Franco said. "Students are even allowed to just come and see what the club is like."
Usually students who come are expected to have a piece of writing they've been working on, or are there to get ideas and begin writing. Franco described the class as a giant friend group, but are also very welcoming to new students. They're also very positive to other student's work, giving helpful feedback to everyone so you can improve on your writing and still feel motivated to keep writing stories.