A night to remember: Varsity football team receives their championship rings
The football team had a banquet on March 15 at 6:00 p.m. until 8:30 p.m., the cost was $25 per family and it was at Reveal Vineyard in El Mirage. 
They had this banquet specially because they won the state championship. The boys and coach were very happy because they had a great time on the team, especially the seniors that this was their last year, they ended the season with a great win. 
Many of the football players enjoyed the banquet experience.

"The banquet was amazing and well thought out," Sophomore Mathew Morris said. "They had many dishes of food to choose from as we ate players and coaches and received awards and trophies."
"The coach talked about each and every player, what they did for the team and what they are going to mean to the team," Morris said. 
The team  had dinner all together, and they all enjoyed themselves as a team, they all received their championship rings after the dinner, after the dinner all the players were posting the rings on their Instagram stories so other people could see the hard work that they made during the season.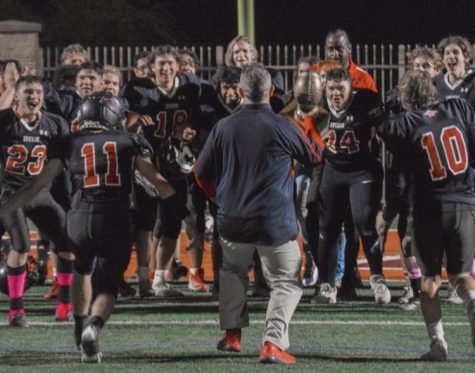 "We all received our championship rings which would be most people's favorite part," Morris shared. 
The coach gave a talk for all of the football players, they got emotional through the night and it was such an amazing experience for the players. 
"I had such a blast at the football banquet, I think we all had a good night, the coach was telling us all the great things that we made this season," Sophomore Drayke Woolsey said. 
Sophomore Bryce Pollay had fun in the football banquet as well. 
"I enjoyed a lot with my teammates and my coach during the banquet, it was such a good night," Bryce Pollay shared. 
When the banquet ended, most of the players were enjoying the night. 
"We had a blast at the football banquet. I really liked how the night went, I think it was pretty fun how they made it," Brandon Ruiz said. 
There are players that don't have their own position yet, but as coach Pollay said, by the time next season comes, all the players are going to have their own position.  
"I don't have my own position yet, I have been playing as a WD (wide receiver), but coach Pollay said that I'm going to have my own position next year," Morris said. "This season was a very good one for the boys, we won the state championship, and the boys made a good effort."