Boy's basketball preview
This year's basketball team practiced all summer for this year's competition. Coaches and players are excited to see what this season brings them.
Riley Casaccio is a senior this year working hard for the upcoming basketball season.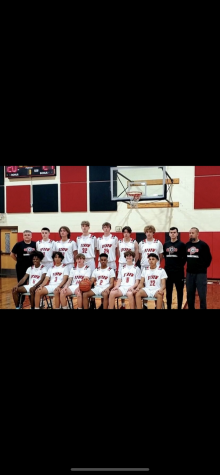 Casaccio gave a brief description on how preseason went. 
"It went very well and we are looking solid on both sides of the ball," Casaccio said 
Casaccio shared that he believes the basketball team is ready for this year's season to begin.
"Yes, I feel the practices throughout the summer have prepared me well for this season," he said 
Casaccio said that if the team has one thing to improve on it would be related to communication on the court.
Jacob Karnitz is a senior this year working very hard into this year's basketball and ready to compete. 
Karnitz described how the team has been doing in the off-season.
"The pre-season went pretty good, we had a winning record over all of our summer league games and faced some good competition. We had two tournaments, one at Laguna Beach and one at Tucson, I did not go to the Tucson one but I did go to Laguna. That was really fun. We played against upper division teams such as AIA(Shadow Ridge, Dysart, Willow Canyon, etc). We also played against some club teams and set up other scrimmages with different high schools."
Karnitz said he is very excited for this season. 
"I am very ready and excited to play this year as this is my last year playing basketball for the Prep, hoping we can win the champs."
While Karnitz is excited for the season to start, he did share there are some things for the team to work on.
"I would say our team needs to work on transition defense and running offensive sets," he said "For me personally, it's just getting faster and being conditioned and better defense for me."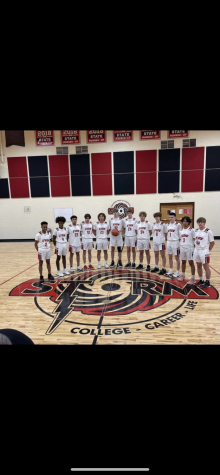 Mason Machado is a senior this year and has been practicing hard to hopefully get some attention from college scouts.
Machado explained how pre season went.
"Our pre-season went very well," Machado said. "We traveled during the summer to play better competition out of state, and during the fall we played in public school leagues and competed very well against them. Overall the pre-season went very well and set us up for a successful season."
Machado talked about how he's ready for this year's basketball season. 
"My teammates and I are ready for the season. We've been preparing all summer for and I'm very confident it's going to be a good season," he said.
Machado said the team needs to be more consistent and to be more honest with each other. 
"We need to work on being more consistent and being honest with each other. We don't bring the same energy every game and it hurts us at times," Machado said. " We have a hard time being honest with each other because we don't want people to get angry but we need to be honest so we can progress as a team."
Leave a Comment