One Mile At A Time
Traveling! There is so much pleasure and enjoyment when it comes to seeing the world. Well, here at the prep we have a handful of teachers who love to travel; three of them are, Government and  Economics teacher, Alexa Pupo, World Cultures and Global Perspectives teacher, Bob Bowley and Biology teacher Sara Camren. These teachers have shared their experience and amusement for traveling.
Bowley has been all around the world, and he shared about about his favorite places to travel.
"That's a really hard question to answer because there isn't really one "favorite." If I had to choose, I would have to say, Thailand. The food is delicious, the people are friendly, and the scenery is amazing. It also helps that it is really cheap to travel around,¨ Bowley said. 
Bowley shared if he could travel on a dream trip somewhere in the world, that he would choose to go to Africa.
"I would have to say, Africa. I have always wanted to go on a luxury safari in Africa and that costs a lot of money. I want to go and experience everything this amazing continent has to offer," Bowley said.
Bowley shared what his worst traveling experience was.
¨I haven't really had any bad traveling experiences, but the worst one was when my father had his passport stolen when we were on a trip to Vietnam together. The US did not have an embassy in Vietnam at the time, so I had to go to Bangkok, Thailand, and get him a new passport and mail it to him. He was forced to stay in Vietnam for another two weeks after that. He said it was like the movie Groundhog Day,"  Bowley said.
Pupo loves to travel, and she shared if she could travel anywhere expense-free where she would go and why.
¨Peru, it's always been a place I've wanted to go to, and I wanna visit South America and its culture,¨ Pupo said.
Pupo also shared her favorite place to travel to.
¨I really enjoy traveling to Italy because my family is from there and I feel at home," Pupo said.
There's always the one thing that no one likes about traveling and Pupo shared hers.
"I would say packing for sure, it's hard to know what you need and not pack, and to know if you pack too little or pack too much," Pupo said.
Camren has been to many places, and National Parks are some of her favorites.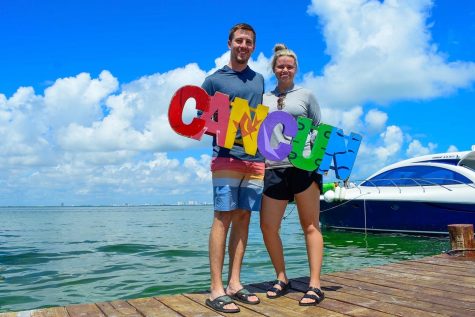 "I love to travel to national parks and love them all, but my favorite one is Glacier National Park where I got to hike amongst glaciers and turquoise blue alpine lakes in nature and away from the city," Camren said. "I also enjoy visiting new cities and my favorite city I've visited to date is Vancouver, British Columbia, where I got to enjoy a combination of being outdoors and watch a National Hockey League game."
Camren also shared her least favorite travel experience.
"My worst travel experience was this past summer to visit my mom who lives on an Island in the Upper Peninsula of Michigan. Completely unrelated to Covid, it was a long travel day that started at 4:00 a.m. with a flight from Phoenix to Charlotte, NC, then Charlotte, NC to Detroit, MI, and what should have been my last flight from Detroit, MI to Sault Ste. Marie, MI. That last flight got diverted to Green Bay, WI after making two failed landing attempts in Sault Ste. Marie. The pilot's visibility was below the legal limit due to immense amounts of fog on the runway so we were not allowed to make a third landing attempt. With the diversion to Green Bay, WI, refuelling the plane, and flying back to Sault Ste. Marie, MI for one more landing attempt, we finally got to land at 1:00 a.m.; we were supposed to land at 10:00 p.m., and we still had to drive back to her house," Camren said.
Leave a Comment