Introducing the new faces of the cheer team
This year's Imagine Prep cheer team has many new faces including the coach.
Coach Melodie Brewer is in her first full season as the Varsity and Junior Varsity coach. Freshman Nevaeh Darley is another new member to the team.
"I have always loved the sport," Brewer said. "I started in dance and gymnastics when I was only three years old. When I was eight, I saw our middle school cheerleaders perform and I loved it! I joined the cheer team the following year, in fifth  grade and continued throughout high school and my freshman year in college. I also started coaching that year, and have been coaching ever since. I am now in my 26th year of coaching!" 
While Nevaeh, who wanted to try something different that's not soccer or volleyball, is enjoying her first year.
 "A close friend of my mom told me how much I would enjoy cheer and how it would be a great experience," Darley said. "And she was right, because I personally am enjoying the fact that I'm making new friends and getting to know each person on the team including the coaches."
Coach Brewer explained why she chose this job and what makes a good cheerleader.
 "As a teacher, I have also loved working with kids and helping them to learn new skills. Put the two together, and coaching was the perfect job," Brewer said. "Firstly, a cheerleader should have a positive mindset. She needs to be coachable and willing to learn without fear or embarrassment. Secondly, a cheerleader needs to be a positive role model, practicing positive behaviors both in and out of the classroom and the sport. She also needs to be athletic and have good memorization skills and rhythm so she can keep up with all of the skills and routines, especially as they get longer and more advanced."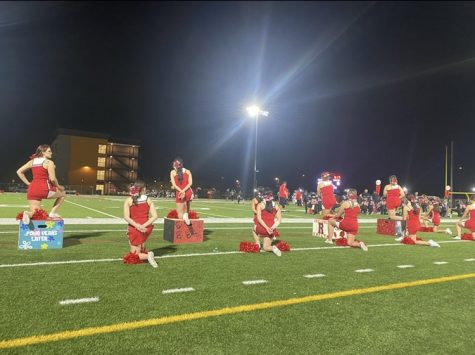 Another perspective comes from junior Cassidy Shaffer, who is back on the team after taking last year off. 
"I took a year off because the coaches changed and I didn't have much time, but I'm back and this will be my third year doing it," Shaffer said. 
I asked Shaffer and Darley what they would say are the hardest things about cheer, and their responses were the same. 
"I would say remembering everything," Shaffer said. 
While Darley added memorizing the dances, cheers and chants because there are so many moves and counts, and it's hard to make sure I don't get them mixed up. 
"But the most rewarding part for me is watching my athletes get new skills and improve on their technique," Brewer said." I love watching every athlete progress from the beginning to the end of a season. I also love the opportunity to watch them perform and compete, even if they don't win. It is so exciting to watch my kids put all of their effort into hitting a routine and to know I had a part in making them successful." 
Leave a Comment