2021 Soccer Season Recap.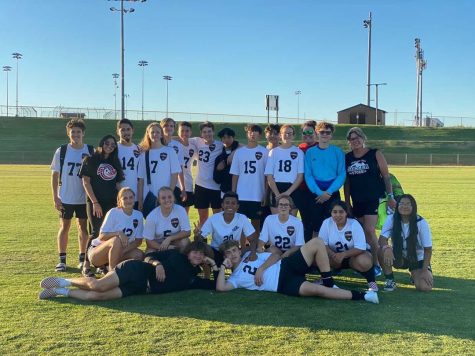 COVID-19. A virus that affected us all. A virus that abolished the chance of the 2020 soccer season. Many athletes were crushed by the sudden halt of their sport, many seniors heartbroken over their final year coming to an end, many athletes losing the motivation to play the sport they love. All of our athletes felt the overwhelming urge just to get out playing again, and this year, 2021, IPS was able to scratch that itch and have a 2021 soccer season for both middle school and varsity. So here it is, your 2021 IPS Storm soccer teams season recap.
Starting with our middle schoolers, finishing their season with a 3-0-7 record, the players had an amazing time working together and for some of them, learning the sport. 
"This season has gone well.  Even though we have a losing record, the games have been played well and very close in the score," Rachel Kelley, Assistant MS Coach said. "The team is close with one another and we have a good time playing!"
Although middle school did not get the record they aimed for they all had a great time playing and getting closer to each other through the sport. 
With every team comes strengths as well as weaknesses, the middle school team seemed to excel this year with teamwork and the fun aspect of the sport. 
"The team works well with one another, and are always having a good time," Kelley said. 
Along with the strengths, their weaknesses included being coachable and being active during the game. 
"The team often struggles to listen to the coaching staff when it comes to movement during the game," Kelley said. 
The athletes seemed to really enjoy this season as well as coaches. Some of our athletes and coaches told us about their favorite games. 
"My favorite game this year for middle school has been any game when the kids are playing their best and having a great time," Kelley stated. "One memory that comes to mind is at Legacy Glendale, Preston Buckelew took this picture-perfect corner kick, and Austin Manore jumped up and slammed the ball in the back of the net with this ESPN highlight reel header.  While I was happy we scored a goal, the look on Austin's face when he turned around and just could not believe what had just happened was my absolute favorite."
Overall, the season for the middle school was a fun one, Ms. Kelley really enjoyed coaching them and had an amazing time this season. 
"The middle school team is just the best group of kiddos. They grew this year so much as soccer players, but also as young adults," Kelly exclaimed. "I am super proud of every single one of them, and love them all so much. They are the reason I choose to coach every year."
Our varsity soccer team put up a great fight this season, they finished with a 9-0-3 record making it to the first round of playoffs. They ended up losing in a close game to Harvest Prep with a score of 4-3, putting their best effort in and leaving it all on the field. Besides this game, the season was fun and full of character from our Storm athletes.  
"The season has gone great! From the time we first started at the beginning I didn't believe we had what it took to go to the playoffs," junior Ethan Paquette, varsity captain said. "Now as we have grown after this short period of time as we learn I believe we have gotten better, stronger, and more of a family. I am proud to say that I play for this team and enjoy stepping on the field with these lads."
With every team comes some strengths and weaknesses. For our varsity team, they excelled in teamwork, having fun, and being passionate. 
"The team works well with one another, and are always having a good time," Kelley, the varsity head coach said. "There are a lot of stand-out players on the team who want to not only be successful themselves but build others up as well on their team."
"Our biggest strength is our passion and our drive to win," Paquette said. 
Their weaknesses included being coachable and communicating. 
"The team often struggles to listen to the coaching staff when it comes to movement during the game and communication," Kelley said. "We just want them to listen to us and the coaching staff."
With every season, we always seem to have a favorite game. A game that we'll never forget because of the impact it has made on us. 
"There have been a lot of great games this year for HS.  The kids really enjoy each other, goofing off with one another and trying to make the coaches laugh. Some of the best games were when the kids were laughing and having fun with one another were the best games," Kelley said. "Another game that stands out in my mind is when sophomore Jessiah Yates volunteered to go in goal and ended up being a total beast.  When I asked him why he did not tell us sooner he could play goalie, and his response was, 'I genuinely didn't know I could play goalie."
"My favorite game has been our first game I believe just to be on the field again and to be a part of something new has always been my most memorable moment," Paquette said.
"My favorite game of the season was when I was able to play against Caurus Academy," junior Antonio Cruz, varsity captain said. "Which was the game that I had returned from injury and scored."
Overall the season went well. All the athletes enjoyed playing and will remember it for a while. These seasons for both high school and middle school were not ones to forget. 
"It was a bumpy road this season but in the end, I'm sure we all enjoyed this year and will remember it for a long time," junior and varsity captain JP Crivello said. 
Leave a Comment