GOOOOOALLLLL!! Premier League Recap
This year in the Premier League, games have been filled with amazing goals and superb passing. As we move into international games these next few weeks let's look back on what's been going on in the Premier League the last few weeks. 
Matchweek 28 
Wolves 0-1 Liverpool
Southampton 1-2 Brighton
Leicester City 5-0 Sheffield United 
Arsenal 2-1 Tottenham
Manchester United 1-0 West Ham 
Leeds 0-0 Chelsea 
Crystal Palace 1-0 West Brom
Everton 1-2 Burnley 
Fulham 0-3 Manchester City
Newcastle 1-1 Aston VIla 
Best Game: Arsenal V. Tottenham Spurs 
Arsenal was ahead and playing aggressively and explosively, but Spurs found a way as Mourinho extended his unbeaten Premier League home record against the Gunners to 10 matches with another vintage tactical display. The victory lifts the Spurs above Arsenal into eight in the table, while Arsenal drops to ninth, two points adrift of their rivals with three games remaining.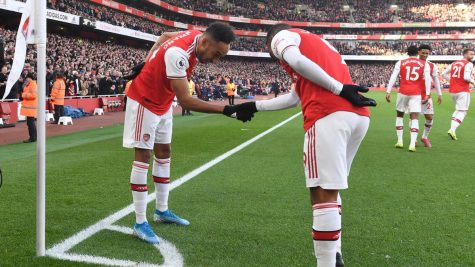 Michelle Baker, HS Teacher at Imagine Prep touched on the topic as she is a big soccer fan.
"I enjoyed watching the Tottenham/Arsenal game more because it was a little more competitive than the Man City/Fulham matchup. I don't really like Arsenal or Tottenham, but on good days, both teams can be explosive." 
An Instagram poll was conducted with side-by-side stats from the Tottenham vs. Arsenal game as well as the Fulham vs. Manchester City and asked the question, "Which game was better?" and the results were:
17% Fulham vs Man City 
83% Arsenal V. Tottenham
Best Goal: Erik Lamela (Spurs)
Lamela had barely been in action when he broke the 0-0 tie on the half-hour, putting Spurs ahead with a beautiful rabona finish. With the ball loose around in the Arsenal penalty area, Lamela took his moment and poked a low shot through the crowd and inside the far post.
"Puskas worthy!!" says David VanBuren, CCV Stars Pastor. The Puskas award is an award that can go to a male or female player judged to have the most aesthetically pleasing goal or ¨most beautiful" goal of the year. 
"He had just subbed into the game and immediately hit the back of the net with a superb Robona," Baker agreed.
Matchweek 29 
West Ham 3-3 Arsenal
Aston Villa 0-2 Tottenham
Brighton 3-0 Newcastle 
Fulham 1-2 Leeds
Best Game: West Ham V. Arsenal 
West Ham led 3-0 in a match that could've had 10 or more goals with better finishing, but own goals (when the team defending the goal scores on themselves giving the other team the goal) from Tomas Soucek and Craig Dawson as well as Lacazette's 83rd-minute equalizer in pushing Arsenal to a tie. Jesse Lingard had a fantastic goal and an assist for West Ham, while Antonio had two assists to join goals by Soucek and Jarrod Bowen on the score sheet. 
"I would say the West Ham/Arsenal game because West Ham took the lead by three goals to nil and then Arsenal made a great comeback to tie it up before the final whistle. Typical Arsenal though, falling behind and somehow figuring out a way to catch up," Baker stated.
Best Goal: Jesse Lingard (West Ham)  
Lingard controlled the ball on the edge of the eighteen-yard box- using the slight bounce to his advantage – and hit a half volley that he struck into the top corner past Arsenal's goalie reach.
"Jesse Lingard's goal for West Ham against Arsenal was great," Baker said.
Wrapping up the past two weeks, the table has had little change. Manchester City holds their position on top running away with a 12 point lead, with Manchester United and Leicester trying to catch up with 59(MU) and 57(LC) points. It'll be exciting to see the new games and new goals in the next few weeks after the international break. And even more exciting to watch the second through seventh-place teams battle out for the top four spots.