Its beginning to look a lot like Christmas !
Varsity cheer and middle school team just finished the APS light parade. It was an amazing experience for those who have never done this before.  Not only was it cold but it also started raining, but the parade still had to go on! The crowd was so pumped and excited to see all the floats and all the little eyes were wide open! I took a chance to talk to two of our foreign friends Mariana Nogueira de sá and Ginevra Amadei to hear what they thought about their first light parade.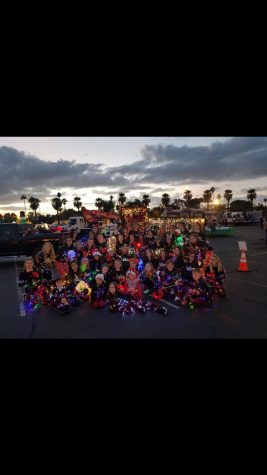 "The APS parade was a very different experience for me, having lights on my body, it was very special being apart of the parade and dancing," Nogueira said. "I really felt my adrenaline rushing through my body. Even though it was raining we still pushed through it and made it through."
So many people were very happy to see the Imagine Prep cheer team they even started recording us practicing! 
''I absolutely loved the process from the moment I got there til the very end," Amadei said. "The best thing was putting on the light on my body when we were practicing in the rain and people started filming us it was so cool! It took me back to when I would perform at home; I felt really close to the crowd. There were so many people wanting to see us and it was an amazing experience for me definitely something I'll never forget being apart of."
The cheerleaders have worked for a month on the APS Light Parade and finally their worked paid off, great job ladies!
APS 2019 was definitely one in the books!
Pancakes with Santa went very well including the boutique. Every little one was involved in the fun activities and most importantly, were able to take pictures with Santa! The holiday boutique was very successful so many booths were set up and the gym was packed.