VeggieTales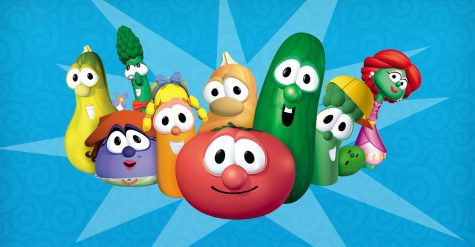 VeggieTales is a wonderful TV show created by Phil Vischer and Mike Nawrocki originates from 1990 that is enjoyed by many small children, along with some not so small children everyday.
 They simplify stories in the Bible for young people to understand; using things such as cartoons, songs, jokes, dancing, etc..
However, if you take a closer look at the name of the show it most definitely would make you think of vegetables. Which may be very misleading seeing as their two main characters Bob the Tomato and Larry the Cucumber are both arguably technically fruits. Shocking, I know.
In their defense the majority of their other supporting characters are in fact vegetables. Some of these vegetables include: carrots, asparagus, rhubarb, onions, and peas. While many other secondary characters are vegetables these are just some examples. When looking at many of the primary characters a lot of the other ones are also fruits. Some of these are gourds and peaches. Even some berries, such as blueberries and grapes.
All in all, VeggieTales  is a very good show in the sense that it helps still developing, young minds to understand simple concepts in the Bible for years to come. I used to watch this show as a young child, and even now if I don't understand a certain story or concept, it's always a really good resource to look back at.
To someone who has never seen this show I would highly recommend watching it; even those in their late teens and beyond. The content they provide is simplified enough for small children, but also quite biblically accurate, and would be a very good resource for more visual learners.