Christmas around the World
Have you ever thought that every country has different Christmas traditions?
Well, Christmas traditions can be really unique. Imagine Prep has six exchange students from four countries that have four different Christmas traditions.  
For some, Christmas starts the first Sunday of Advent and ends on Jan. 6. For others, Christmas and the "Santa Clause" tradition are not a big deal, and they celebrate their own Christmas with special traditions.
In Brazil the Christmas holiday is traditional. 
"For me Christmas starts some weeks before the 24th when me and my mom go to buy presents. We always have so much fun, we really like enter in the Christmas spirit," Mariana Nogueira, the junior student from Brazil said.
During the actual Christmas the family is reunited; they share food and everyone brings something, waiting to give each other presents.
"As a family tradition we do the Secret Santa, it is one of my favorite things about Christmas because I love to guess who was 'my Santa," Nogueira said.
If we fly to other parts of the world, the Christmas spirit doesn't miss at all. In Spain, Christmas is a Christian holiday that starts with the first Sunday of December with the first day of Advent and is composed by a bunch of tradition.
"The 24th at night, we have a big dinner composed by some Spanish typical dishes. Waiting for Santa, we always sing some Spanish traditional songs, that natives used to sing," Lucia Sancho the junior exchange student from Spain said.
Spanish Christmas Carols are a big part of the holiday season in Spain. These traditional melodies are called Villancios and are mostly sung by children during this special time of the year.
The Spanish sophomore Aurora Macia said her favorite tradition of Christmas is the three Kings parade.
"My favorite thing about Christmas is always the three Kings parade, it is a very huge event, I love watching all the floats that represent this tradition and obviously having fun with my friends," Macia said.
The three King tradition comes from the Bible, and for this nation it is the reasons why they exchange gifts during Christmas, because according to the Bible, the Three Kings brought Jesus gifts after he was born.
Christmas is my favorite holiday, I love the spirit and during this time of the year I felt closer to my family.
In my family it is tradition to go to church the night of Christmas Eve all together, and the morning after we open all the presents that "Santa Clause" or what we call him "Babbo Natale" brought to us.
Christmas is an important family holiday in Italy we always have a big Christmas lunch that is as a tradition a "never ending" lunch. Usually I go to my grandma's house, and we all eat all together, she always starts to prepare the food 2 days before, because we really have a lot of stuff.
This year Christmas is going to be a little bit different for us, we are not at home, we don't have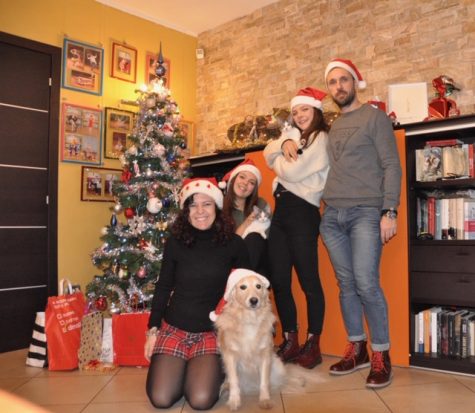 ours traditions and most important we are not with our families. Every exchange year has its difficulties but this is for sure one of the biggest, but it is still remains a great experience, we have the opportunity to know other tradition and spend this important holiday in a different country.