Old, New, Borrowed, and Blue Christmas Traditions
Teachers tell all about their Christmas season traditions.
Christmas is a time to rejoice and celebrate. Many families have traditions they continue, new ones they create, and have seen ones they give a try. All traditions are unique but they all serve one purpose, to bring the merry spirit and give time for bonding with family.
In my family, on Christmas Eve we went to church and paid our grace to the lord who blessed us with all the gifts we were going to receive the following morning… and of course the roof above our heads, the beds we slept on, and our full stomachs. After church that night we would go home and be allowed to open one gift from under the tree. You always wanted to pick a medium sized one, nothing too little, nothing too big. Just big enough to be one of the gifts you hoped for. Then you had to spread your oats in the front yard for the reindeer to come before you drifted off to sleep, pondering what Santa would leave. Christmas morning would come around and you never woke up in such a hurry. Running to your parents bedroom to wake them up so they could get ready to open gifts, then waking up your siblings just to rub it in their face that you were the one up first. We'd all gather around the tree and distribute the gifts, then open. After gifts we said our thank yous and would get ready to do our yearly Christmas dinner at Grandmas.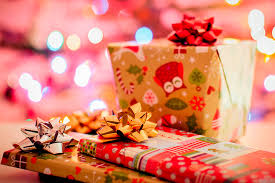 These were my Christmas traditions when I was a child, we all have some. Do you ever wonder what your teachers stories might be though? If they grew up different than you? Asked and answered, as you will come to learn, that Christmas brings different traditions to everyone, but one common ground is the feeling of joy on that merry day. 
Many of the traditions start on that exciting Christmas Eve day. Some go to dinner, some go to church, some go to the snow. English teacher, Ms. Emma Franco's traditions show that everyone's are unique. 
 "My grandpa's birthday is on Christmas Eve, so we always go to my grandma's house with my dad's side of the family and have a party! We all open gifts at eight o'clock that night and eat tamales. Then, when my family and I go home that night we open all of our gifts (because we sleep in on Christmas)," Franco said.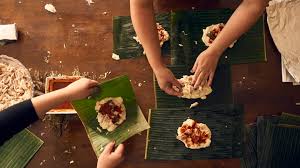 Similarly, High school academic counselor, Mrs. Amanda Mecca has her own Christmas Eve traditions. She explained that she and her family host a Christmas Eve dinner for her husband's side of the family. After they eat they do presents and then they play glow in the dark football. When the sun has fallen, Mecca lets her children know the magical elves left a special key for Santa so he can get into the front door to bring presents, since they do not have a chimney for him to come through. 
It's not everyday that you hear that people play glow in the dark football on Christmas Eve or, in Franco's case, go to a birthday party, but that goes to show that everyone's traditions are different and exciting in their own ways. 
High school teacher Ms. Megan Werner's Christmas, too, is full of traditions from her childhood. 
 ̈My fondest memory is my mom blaring "hip" Christmas music (like "Rocking Around the Christmas Tree") before digging all the holiday decorations out from the basement. We then spent the day dancing and singing while placing ornaments on the tree. We also have a German "pickle" finding tradition. My mother hides a green pickle ornament within the Christmas tree and on Christmas Eve, the rest of the family would get the opportunity to try and find the pickle. It is said that whoever finds the pickle is blessed with good luck for the coming year, and my mom would buy lottery scratch off tickets to see how "lucky" the pickle finder really is," Werner said.
Some, like Werner and Franco bring in their culture to their traditions. This makes for a more 'home-like' feeling during the holiday season and helps bring the family together! 
Then comes Christmas day! Cookies are eaten, Santa has come, and the traditions continue. 
"Christmas morning we have a big breakfast with my mother in law. Then we stay in our special Christmas pajamas, have hot chocolate, and open our house presents. We just stay in our jammies all day and hang out together," Mecca said. 
What a fun way to spend Christmas! Jammies, and hot cocoa all day sounds really nice, and a tradition many can relate to. Franco's Christmas traditions are similar to those of Mecca's family, on Christmas day. 
"The next morning, my mom makes pozole (a Mexican soup) and we stay in pajamas all day and just lounge around and watch Christmas movies," Franco said. 
Lastly, Werner explains on her Christmas Day she travels quite a bit because she has family in many places, like Texas and Michigan. 
Well, there you have it for Christmas traditions. They may be the same, they may be differing, but that's what is fun about them. Contrasting cultures, and family dynamics open many doors for what families do on Christmas Eve and Christmas day. Enjoy whatever traditions your family follows this season, give your thanks, and Merry Christmas!