Storm Varsity Volleyball: Behind the Scenes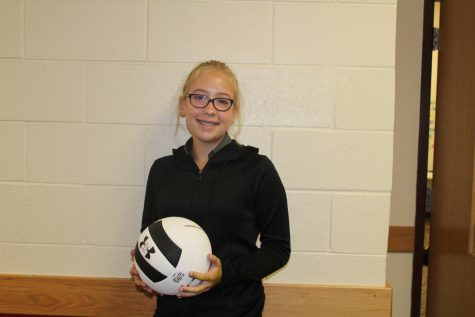 More stories from Abby Doarn
When you think about the word volleyball, what is the first thing that comes to mind? Bump, set, and spike? Volleyball is so much more than that, it consists of many triumphs, defeats, the construction of a team and the building of a family. This year's varsity volleyball season has been a great one to say the least, with only one loss and 11 wins in official league play. The team also participated in the 14th annual Spike It Tournament, where they finished in second place in the silver division with only one loss and three well-deserved wins.
With every functional sports team comes a great team captain, and this year the team has three captains who are no exception. This season the Storm volleyball team is lucky enough to have junior Riley Hobbs, and seniors Carlie Cortes, and Angelica Pelaez as our captains. Hobbs has been playing volleyball for eight years and has a lot to say about why volleyball is important to her.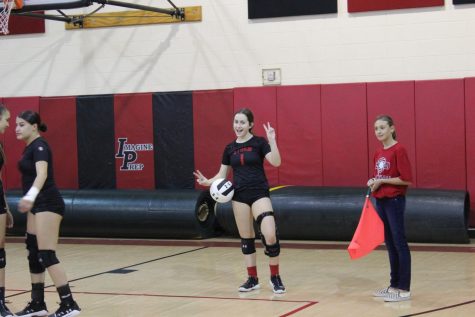 "Volleyball is important to me because it has taught me so many things about life, friendships, and myself," Hobbs said. "Volleyball isn't just a sport, it's something that teaches you lessons that you can take with you when it's over. Volleyball has given me so many life-long friendships that are so important to me and have impacted my life in many ways." 
Hobbs described that her favorite thing about volleyball all has to do with the family aspect of the game.
"My favorite thing about volleyball is being able to create bonds with new teammates and continue to grow old bonds," Hobbs said."The family aspect of the game and being able to work hard and play volleyball with people around you make it all worthwhile."
The people around her and her team are what motivate her to be the great leader that she is.
"My teammates motivate me to be a leader to them," Hobbs said. "Something that I play by is, 'play for the person next to you', pick someone on your team and encourage them, play for them. Leading a team takes a team, in order to lead you have to play your part and give it all you got."
Hobbs described her favorite moment of the season so far was the Desert Heights game. 
"My favorite game/memory of this season is playing Desert Heights," Hobbs said. "The energy in the room, the screaming fans, and support from our school was insane. I love playing with my girls and working hard to reach our goals." 
She says that she looks forward to getting to the championship game and the journey along the way.
"I look forward to getting to playoffs and working our butts off to get to that championship game," Hobbs said. "I look forward to making unforgettable memories with these girls as my time playing high school volleyball is running out. These girls are my family and I wouldn't trade them for anything." 
In order to enhance a team's skills and progress together as a team, you need a great coach. This year's varsity volleyball team has three amazing coaches, Billy Hobbs, Sara Hobbs, and Rachel Kater. Coach Hobbs has been a coach for five years now, and had a lot to say about why he enjoys it.
"Volleyball is one of the most team oriented sports out there," Coach Hobbs said. "It takes all six girls on the court to work together to be able to be successful. Although skill is a big part of it, a team can go a long way by simply playing hard together. It also is a very strategic game. You can overcome a team that might be more talented than you by staying committed to and executing a game plan."
This year the team has an amazing group of girls who are all unique and help the team in different ways.
"I believe we have a really good group of girls this year," Coach Hobbs said. "They all bring a unique value to the team that is and will be needed to reach our goals this season."
Coach Hobbs described the highlight of the season so far to also be the Desert Heights game earlier this fall.
"At the start of the season, we faced a really good team in Desert Heights," Coach Hobbs said. "Although the win was nice, I was most excited about the way the team responded to adversity. They were tired in the third set, but continued to work hard and found enough energy to pull out the victory in the fourth set."
Though they have had an amazing season so far, Coach Hobbs said that he looks forward to playoffs and making it as far as possible with his team.
"I think we have a real shot to go deep into the playoffs," Coach Hobbs said "I am excited to see how we come together as a team for the playoff run.  If we can stay focused, work hard and commit to the process, we have a shot to do something special."
Coach Hobbs also gave some great advice for athletes whether they are new or experienced.
"Don't be afraid to fail and stay committed to the process," Coach Hobbs said. "So much about sports in life is not how you succeed, but the process you go through to get back up after you fail.  Failure is going to happen, but it does not define you.  Your ability to stay committed to the process of growth and get back up will."