The Diner Battle
Hang on for a minute...we're trying to find some more stories you might like.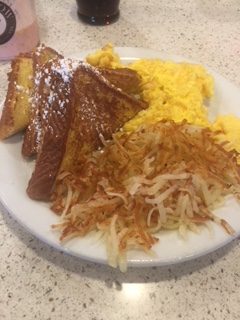 Yummy pancakes to delicious french toast these two great eat outs are about to battle for who's the best. Since Denny's was founded in 1953 in Lakewood,CA it was the best joint around to get a juicy burger or a savory milkshake, until International House of Pancakes (IHOP)  was founded 1958. Ever since then the two have been battling over who's the best chain diner in town. Now, it's our turn to finally figure out which one is the best of the best. Denny's or IHOP?
We judged each restaurant on how good the food was, how the customer service was, how long the restaurant took to make the food and have it delivered to our table, and if the order was correct.
We first went to Denny's, the one off the 303 and Bell Road. We were seated immediately. Karissa and I sat at the bar and we glanced at the menu as we got suggestions from the waitress, Julia Kupis, a senior at the Prep, on what we should get. Karissa took Kupis' suggestion on the bacon avocado burger with seasoned fries which by the way were delicious! While I ordered the french toast slam with hash browns instead of the bacon or sausage.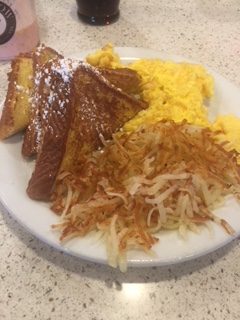 While we waited for our food to arrive Karissa and I chatted about the end of the school year and it didn't take us long to get our food ready to be consumed. On all accounts our food was delicious. Karissa's bacon avocado burger was a behemoth. She had to cut it in half just to make it easier to eat, but taking a bite out of it was so worth it. I really enjoyed my french toast slam. It came with four pieces of french toast, scrambled eggs and hashbrowns. It was so mouthwateringly good! Everything was cooked to perfection for both of us. Our waitress, Kupis, stayed on top of refilling our drinks when we were getting low and asking us how everything was going and if everything tasted okay.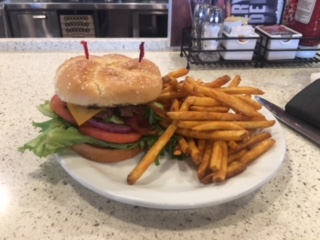 What's different about Denny's is that they offer a lot more variety on their menu. They offer things like milkshakes and smoothies. They also have three different types of lemonade. Where  IHOP doesn't. I mean they have lemonade but their multi flavored lemonades are only served during certain seasons.
Which leads us to our next stop, IHOP. On April 21, Hannah and I went to IHOP. When Hannah arrived at IHOP there was a ginormous line and a waiting time of 10 minutes to be seated. Yet within two minutes of giving the table information, Hannah was called back in to be seated.
We got to our seats and started off by ordering our drinks, Hannah got a sweet tea and I ordered a water. While we waited for our drinks, we got to look at the menu and decide what we wanted to eat. When the waitress came back with our drinks, we had chosen and gave her our order. Hannah ordered the french toast that came with six slices of french toast topped with powdered sugar and butter. I ordered the stuffed french toast, which came with strawberries and a cream filling.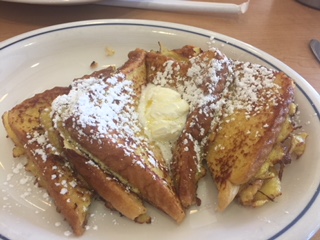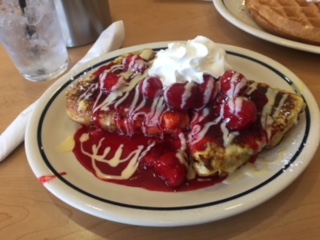 It took IHOP around fifteen minutes before the food was delivered to our table. Which was surprisingly fast since they were super busy. When it came time to take the first bite we just couldn't resist. It was so filling. The only downside was that the waitress didn't come check on us again to ask us if everything tasted good or refill our drinks until we were pretty much done with our plates. We weren't surprised, but were pretty disappointed by the service.
Now, it comes to the final decision which diner is the best in town, Denny's or IHOP. Karissa and I discussed it and we have looked at all the aspects of our visits to both IHOP and Denny's. We have come to the conclusion that the best diner in town is DENNY'S! Based off of the service that we received there and how long it took for everything, whether it be having the food delivered to just being seated, Denny's won, hands down. There is also other good diner's in surprise like Nick's Diner and etc. Yet you might not agree with us so you go and you come to your conclusion as to who is better, Denny's or IHOP?