Thankful it's Thanksgiving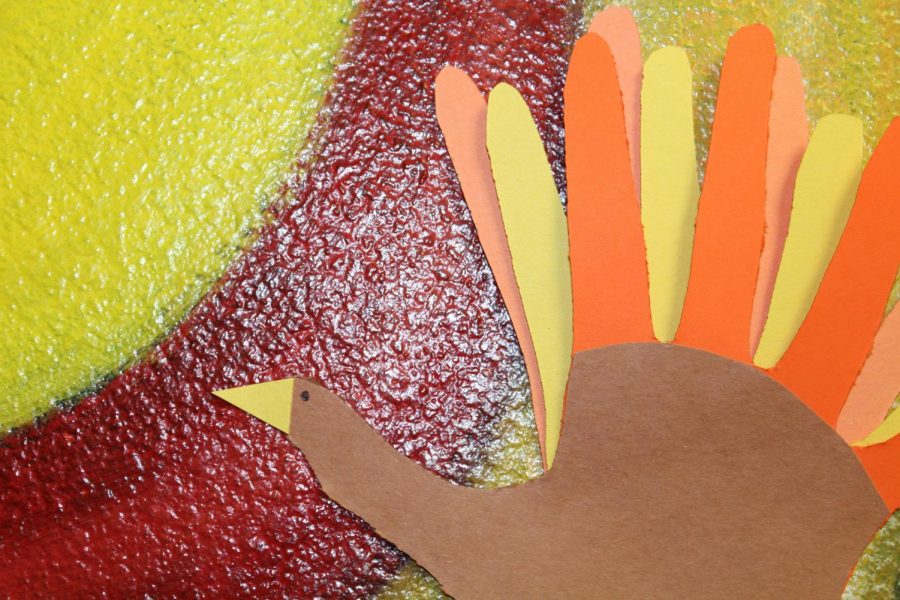 From homemade stuffing, to warm mashed potatoes, to hand turkeys, and time spent with family– what's most beautiful about Thanksgiving, even more beautiful than a perfectly baked pumpkin pie, is the fact that each and every one of us have a tradition unique to ourselves to celebrate the day that reminds us to be grateful for what we have in our lives and the people we love and cherish. With a turkey-gobblin'-good time right around the corner and the smell of cranberry sauce and roasted turkey in the air, there couldn't be a more perfect time to pass the plate and sample the many different Thanksgiving traditions of our peers here at Imagine Prep!
What makes your Thanksgiving unique?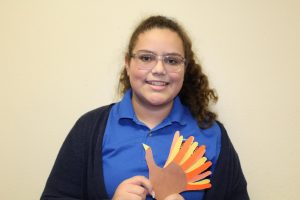 "We usually invite my whole family and my mom and sisters! Then, my grandma cooks for all of us! I'm not sure if it's necessarily unique, but the highlight of my Thanksgiving is always the mashed potatoes, as weird as that sounds. I know the turkey or ham is supposed to be the centerpiece of Thanksgiving, but there's something about the way my grandma puts her mashed potatoes together that makes it so special. Enjoying her mashed potatoes with all of my family around me always makes my Thanksgiving one to remember." -Katlyn Ayala, 8th grade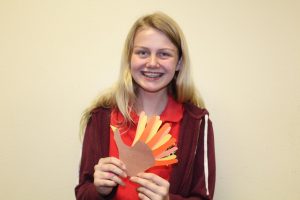 "We don't typically have a crazy feast. We actually just stop by my grandparents' house and go Black Friday shopping afterwards! My grandparents just puts together a few of our favorite dishes and we eat together before heading out for the night to go Black Friday shopping. Sometimes we'll go to the mall or go to Target or Walmart. It really just depends on what we're planning on getting that year, but no matter where we go, it's always something I look forward to doing every year!" -Carlie Hess, 8th grade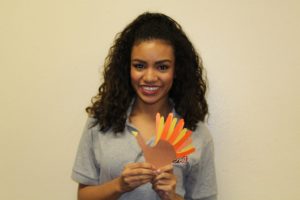 "My family typically has a pretty large Thanksgiving since we invite family and a lot of friends. I've always thought that the fact that we have three turkeys every year is pretty unique though. My family always likes to do the most, so one turkey is never enough. Plus, there's just too many of us to just get one! We basically treat it like a giant feast for all of our family and friends. There are hardly any leftovers either, believe it or not. Everyone's plates are always filled to the top! It's an extravagant time and an extravagantly difficult time cleaning it all up, but that's okay because I always have fun seeing everyone and eating with them." -Paulette Rivera, 12th grade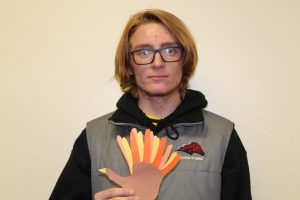 "My thanksgiving is unique because we like to get the whole family involved by having everyone cook some meal. Even the kids help by making salads or bake cookies! We also make it an all-day event. The whole family gathers at someone's house early in the morning and no one leaves until late in the night. We have activities and games that we play all day for prizes that my aunt buys, ranging from gift cards to gift baskets. It's really exciting!" -Jacob Regan, 12th grade
What is your favorite Thanksgiving memory?
"Just eating dinner with and talking with my family, really. I just like enjoying everyone's presence and the fact that we're all together and just enjoying the moment together, you know? It's that sense of togetherness that has me looking forward to seeing them all every year for Thanksgiving." -Katlyn Ayala, 8th grade
"Black Friday shopping with my mom is always my favorite part about our Thanksgiving. There's just this sort of thrill about waiting in those crowded lines and getting all of your favorite things before the other people can that's just so exciting. It's like one big adventure and the fact that me and my mom do it together only makes it better. I feel like it always brings us closer together. Plus, I've always thought it was funny that it brings out a side of her that I'd never expect to see!" -Carlie Hess, 8th grade
"I guess I'd say my favorite Thanksgiving memory is when one of my childhood friends named Christopher came to Arizona for his Thanksgiving break. We don't see each other very often as is, so actually getting to see him during those days was a really big deal for the both of us. We really got the chance to reconnect and catch up on each other's lives and just enjoy each other's company, all while eating good food. I'm really thankful for that." -Paulette Rivera, 12th grade
"My favorite Thanksgiving memories are when my family and I sit down and eat the food that we spent all day making. We just sit there and share stories, just catching up with family that we rarely see. I always enjoy hearing stories from my grandparent's youth."-Jacob Regan, 12th grade
What significance does Thanksgiving have in your life?
"To me, it's all about getting together with my family and enjoy our time together. It reminds me to be grateful for all of the people I have in my life and to enjoy all the little moments we share together. It brings our family closer and I couldn't be more grateful for that and the fact that they're all in my lives and are able to enjoy it every year with me." -Katlyn Ayala, 8th grade
"Thanksgiving is significant to me because it gives me a moment to slow down and really think about what I have and how I am thankful for it. Sometimes, it's easy to get overwhelmed with how fast the world runs around you, but Thanksgiving, in my opinion, reminds me to slow down and focus on the smaller things and the times with family that I should value most of all." -Carlie Hess, 8th grade
"It's a day where my whole family stays at home with people we care about and I think that's a very valuable time for us. It reminds all of us how grateful and thankful we are for each and every one of them and all that they do for us every day. Thanksgiving is all about coming together as a family and loving each other unconditionally and selflessly, which is why it's so significant to me and the rest of my family. " -Paulette Rivera, 12th Grade
"Thanksgiving is significant because that is a day when my family comes together and tries their best to actually act like a family. We get to spend the day laughing and having a great time. It is the one day a year where we can really connect with family. I also love it because we can eat as much as we want and not get judged."-Jacob Regan, 12th grade