State Champs:
The Imagine Prep football team had finished  the season winning 8-0 in their last football game against Mesa. That brings them to the playoffs; semi final against Maricopa, and if they win, the finals against Mesa. Chasing the Storm talked with some football players about their favorite memories of this season. 
Junior Jessiah Yates favorite memory was playing against Superstition, and casually made a new friend with the same number as him. 
"The number thirteen of their team," Yates said. "Him and I were like best friends after that game, we talked the whole game." 
Sophomore Bryce Pollay shared his favorite play of the season."My favorite play of the season was when Riley Cassacio (senior) threw me a touchdown," Pollay said. "It was our first time connecting for a touchdown together."
Senior Dylan Cox shared that he really enjoyed it when his friend, Ethan Opperman got an interception. "We all went crazy on the sidelines, and it was funny because he fell on his back," Cox said.

 Coach Kip Pollay, repeated the name of Riley Casaccio, saying that his favorite play was watching Casaccio go off vs Mesa. "We wanted to attack their big size with speed," Kip Pollay said. "I was ear to ear smiles every time he was running down that field alone on his way to the endzone. He had his best game ever at the right time."
"Honestly, the team is now like a family to me, I love hanging out with them." Yates said, referring to his favorite memories this season. " Also, one of my favorite memories are all the interceptions I had, like one per game." Yates said. "It feels good, because you feel like you are helping the team."
Agreeing with Yates, Bryce said that he always has so much fun with the team. 
"Also, I loved the bye week practises," Bryce Pollay added."They were super fun and wild."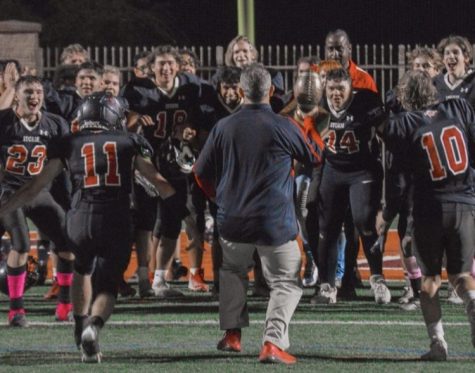 Senior Thomas Ross favorite memory was when they all got interviewed after the Mesa game. "It was really special seeing everyone happy and going crazy for the cameras," Ross said. 
"Beating the Mesa team who had not lost a game since 2018," Coach Pollay said. "We really put everything together that night and shocked the CAA."
Coach Pollay shared the things that the team could work more on."Consistency in attending practice," Pollay said. "The ones who are there all the time really shine and understand our system very well and that equates to success on the field." 
He also added that all the team has improved immensely.
"To be a Championship level team that has to happen." 
Now that they won the championship, Yates shared his thoughts about the last game.
"The game was really scary at first," he said. "It was nerve wracking, when we were doing warm ups I was all nervous because all the team wanted to win."
After this season, Yates said that they still have a decent team for next year.
"We are losing really good people, but it is a solid team, with good people, so I am looking forward for next year."