Uni Sushi's uni-que take on Surprise sushi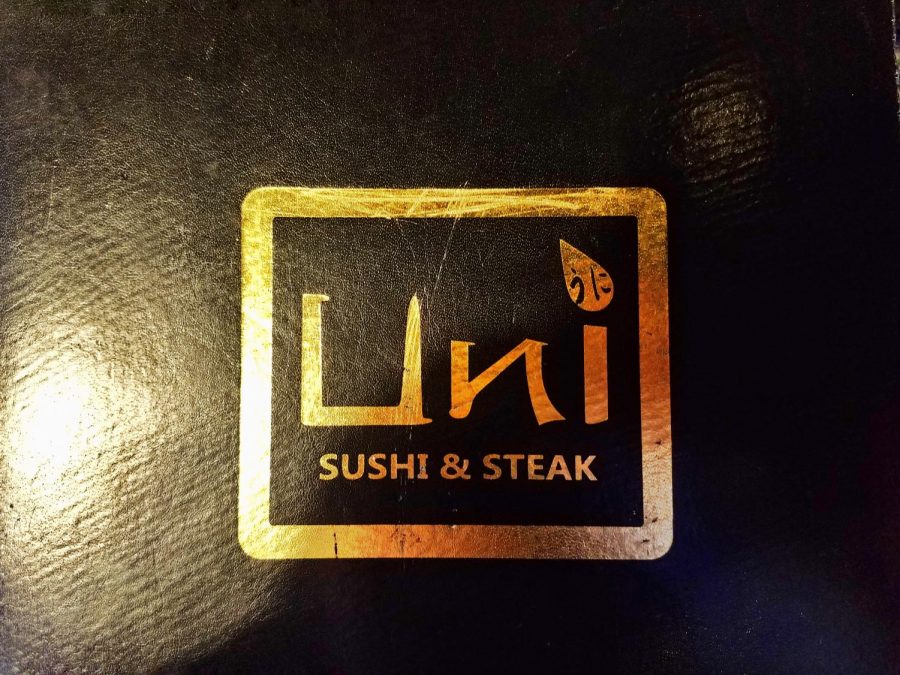 If you're like me, not a day goes by where you aren't craving sushi. There's just something about the countless combinations of its intricate flavors that makes it so irresistible to me. When done well, there are few things that can match my ceaseless love for it. However, living in the small suburban town of Surprise, Arizona, this love is, more often than not, unfounded and honestly, having to drive all the way out to Phoenix or Scottsdale for quality sushi becomes a pain, even for someone that loves sushi as much as I do.
This past weekend, however, my eyes were finally opened for the first time. Looking for lunch before our movie, I initially planned on treating my little sister to Harumi Sushi, her favorite sushi restaurant in Downtown Phoenix. Unfortunately, time wasn't in our favor, so plans had to change last minute. After a quick Google search, I decided to settle with "Uni Sushi" on a whim. Little did I know, this decision wound up being one of the best ones I made that week.
I'm going to be honest, I don't usually have very high expectations for eateries located in Surprise on Litchfield Road. Considering our eating options in the area usually just consist of chain restaurants that heat up under-seasoned entrees that definitely warrant a good yelling or two from Gordon Ramsay himself, I've always felt that we lack that "wow" factor that restaurants in the more urban areas of Arizona seem to have. So, when my sister and I apprehensively sat down at our table in Uni Sushi, the two of us were already preparing for the worst.
"I bet it's gonna taste bad," I remember hearing my sister grumble in the car during the drive there. "Like Walmart sushi or something."
As I looked over the menu, I was pretty surprised by the wide array of choices they had. For those that aren't necessarily interested in the rolls, they had rice plates and soup dishes that actually sounded pretty delicious. I would be lying if I said that the Chirashi Bowl and the Unagi Bowl didn't catch my eye. However, my eyes were still focused on getting the prize, even if it wound up being disappointing. I quickly moved onto the Specialty Roll portion of the menu and picked out the Sunset Roll, which was a pretty simple roll whose base was a traditional California Roll topped with fresh salmon and a slice of lemon. I figured it'd be pretty hard to slip up something that simple and, after trying the Citrus Roll from Osaka Steakhouse, I was desperate for anything that would be able to replicate its taste. My sister wound up settling with the Palm Spring Roll, which was also a California Roll that was instead topped with a mixture of fresh tuna, salmon, white fish, and avocado thrown in with a cilantro mix. Noting that the combination of the Sunset Roll and the Palm Spring Roll sounded pretty darn adorable, my sister and I could feel a tinge of excitement building up within us as we awaited our orders.
Before our rolls arrived, we were each given a bowl of miso soup, free of charge! This actually wound up being the most disappointing part of the meal though, as it honestly tasted way too watered down for either of our preferences. But it was free, so I guess we shouldn't be complaining much.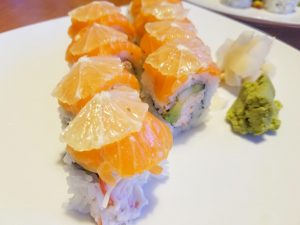 A few minutes after chatting and finishing our soup, the rolls were delivered. The presentation wasn't anything mind-boggling, but it had a quaint and simple beauty to it– enough to ease the disappointment we had gotten from the soup. Upon the first bite, I found myself completely enamored with the Sunset Roll. Maybe it was because I didn't eat breakfast and hadn't eaten anything until that point, but it was honestly the perfect bite. It was gentle and refreshing, much like watching the sunset after a long day, and the natural sweetness of the California roll mixed with the rich taste of salmon and the subtle tang from the slice of lemon made me feel like Remy from Ratatouille when he tasted the piece of strawberry and cheese together. Seriously. Zesty tango music, firework explosions, and all. It was a pretty crazy experience.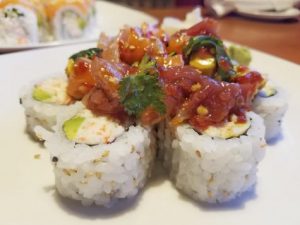 My sister's roll, on the other hand, was also delicious, though not nearly as life-changing. I was actually pretty surprised when I tried it, because, upon initial examination, it looked like the mixture of tuna, salmon, white fish, and avocado that topped the roll was tossed in with the sweet chili sauce that my mom always had us eat our egg rolls with. With that in mind, being met with an almost sour jalapeno taste was a bit startling to say the least. Being the sweet tooth that I am, I'm very easily won over with just about anything with sweet undertones and I feel that might explain why I didn't enjoy the Palm Spring Roll nearly as much as my little sister, who's definitely more keen to things on the spicier end of the flavor spectrum. Overall though, it was a tasty roll that truly embraced the spunky spirit of the forever-sunny Palm Springs and those who want to dip their toes into the wilder side without having to dive into the deep end will find great joy in giving this roll a shot!
As I finished paying for the check at the conclusion of our meal, I couldn't help but sigh with content. Everything (besides the soup, but I think we can all just pretend that never happened) was nothing short of amazing: something I never thought I'd ever be saying about a sit-in restaurant in Surprise, Arizona. Considering that we only paid $12 for each of our rolls, I'd definitely say that every penny we spent was completely worthwhile, especially for the quality that we were presented with. The fact that Uni offered discounted even cheaper prices for their rolls during their Happy Hours, which are from 4 p.m. to closing every day, only made me love the place even more and upon discovering that fact, I immediately began planning out my future visits. Uni Sushi is a place I could easily see myself coming back to again and again and, as baffling as it is to admit it myself, I may have finally found the solution for my sushi addiction in Surprise of all places. Who would have thought?
Katrina's Final Rating: 4.5/5 Stars.