Yogurt vs Yogurt??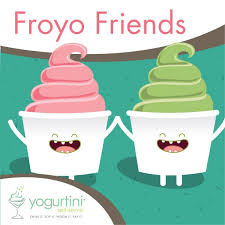 Hang on for a minute...we're trying to find some more stories you might like.
Yogurtini's self serve yogurt bar has 10 to 16 different flavors of yogurt to choose from. Starting from regular chocolate or vanilla yogurt to combinations like cable car chocolate or pink lemonade sorbet. The cups for the most part are a pretty decent size, you are given the chance to mix and match between flavors. Once you are done choosing your yogurt you are given the chance to add toppings (if you don't want any you don't have to get any). There's many many many toppings you can choose from some being flavored bursting boba, candy like Sour Patch kids, chocolate like Reeses Pieces whether they're crushed or whole, and even fresh fruit. There are also liquid toppings you can choose from. Yogurtini´s prices range from how heavy your cup is at the end of your purchase.
  Yogurtland in many ways is like Yogurtini, the building complexes are quite similar, they both have self serve bars and have cups that range about the same size. However Yogurtini does have a wider range of variety when it comes to their yogurts and toppings. Yogurtland offers frozen yogurt flavors such as plain tart, pistachio almond froyo, sea salt caramel soft serve, etc. Their toppings can range from Chocolate chip, crumbled up chocolate such as Butterfinger or Reeses Pieces , to fresh fruit such as kiwi, mango & strawberries. Although both are very nice frozen yogurt shops, what makes them different is the pricing. Yogurtini is more in the expensive side there are more toppings available and their frozen yogurt does have a wider variety of flavors. Yogurtland has more discounts or promotions, that in the long run does give you a cheaper buy than what you'd get at Yogurtini, both can be said to be very similar even if there are small differences.  Yogurtini is located on the corner of  W. Bell RD and N Reems RD while Yogurtland is located near the Gateway Pavilions on Mcdowell RD, Avondale. Depending on where to go would be up to the individual themselves, where would you go?