We all scream for ice cream!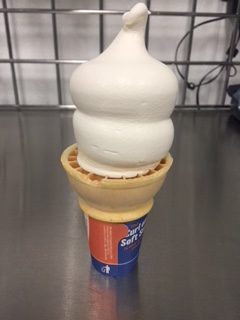 You scream, I scream, we all scream for ice cream and on March 20, that is exactly what people at the Dairy Queen on Greenway and Reems did. March 20 is the annual free cone day at Dairy Queens across the country to mark the start of spring. At this particular location we got a inside look at the madness and chaos that occurs on free cone day.  
We got to talk to the boss Mariah Occhiline the general manager at this Dairy Queen location and she got to express her feeling about that day.
"It was challenging, but it was fun over all," Occhiline said. "It was easy because most orders were all cone, the only downside was that the store was busy all day."
Occhiline explained how this location prepared for the busy day.
"We had to buy 15 boxes of cones, 108 vanilla mixes and 12 chocolate mixes. In the end I felt that we were really prepared," Occhiline said.
Another perspective on this crazy day is from assistant manager, Lynntrell Cotton.
"It was alright, it was an easier day for me since I worked the morning shift," Cotton said. "Since we are handing out free cones all day it caused the store to lose money, but a lot of the money that we collected through donations went to the Children's Miracle Foundation. Yet we definitely planned well ahead for cone day."
Crew member, Jaron Kenya Metchis had some comments to say about free cone day this year.
"Having worked the previous year's cone day, I already knew what the day was going to look like. It was pretty terrible in my opinion, there was a ton of people and it was non stop rushes all day," Metchis said. "On cone day I was placed on drive pull (meaning he makes the cones and pulls all the ice cream) so by the end of cone day I think I pulled between one to 800 cones but it was a long day so I lost count."
A shift lead working that day, Jeffrey Richards shared his thoughts about cone day.
"I hated it, constant rush non-stop, it was super crowded," Richards said. "Cone day in general was a nightmare but it was fun just being able to load up the expo tables continuously with cones."
Richards gave us his perspective on his position and the part he played on free cone day.
"We got a ton of people, so I think we planned and handled it very well," Richards said. "After calculating everything after that day we ended up giving away 2,000 cones and I probably pulled around 500 cones on front pull."
Overall, free cone day was a success displayed by the many smiles of happy customers and excited children. It was chaotic and the day was super stressful for the crew but they powered through it and survived the long day for many of the staff members.