Taking the shot of a lifetime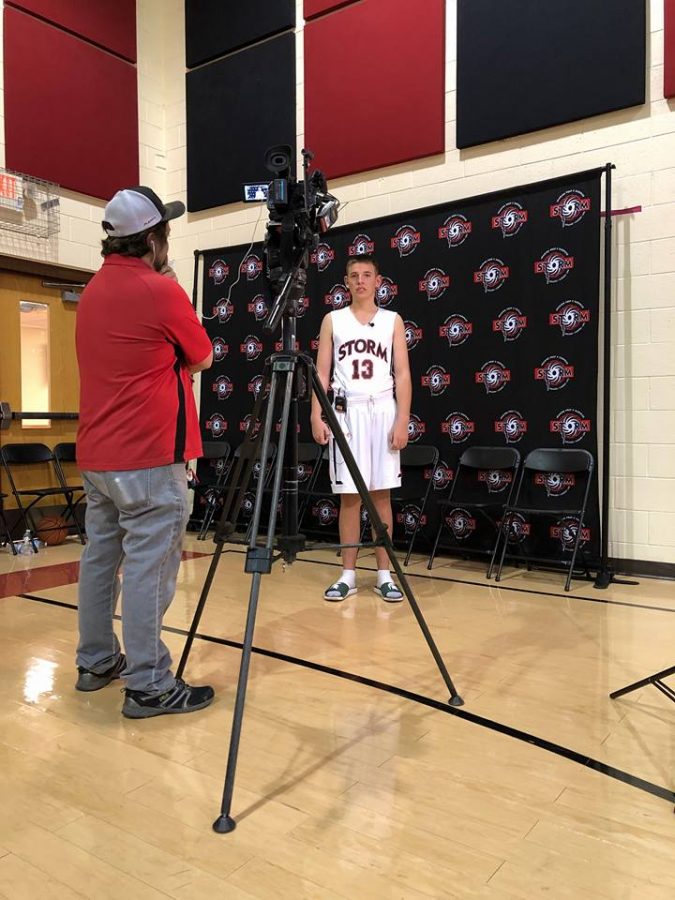 Jan. 24 was a day that felt just like any other at Imagine Prep. No one would have thought that something absolutely incredible would take place. As day turned into night, however, that seemingly ordinary day made it clear that it was more than ready to prove everyone otherwise. During a basketball game against West Phoenix High School that very fateful night, freshman Derek Waggoner made the half court shot of a lifetime and was greeted by a roar of applause and cheers, not just from students and families that came to support Imagine Prep's Varsity Basketball team, but even by those who came in support of the opposing team! It was on that day that Waggoner made the three pointer shot that would go down in Imagine Prep history.
The excitement didn't stop there for Waggoner. As footage of the game began to gain momentum and spread, Waggoner's extraordinary shot eventually caught the attention of major Arizona news outlets AZFamily, 12 News, and even FOX 10. Shortly after, Waggoner and his teammates found themselves in the center of the lights and cameras as they were interviewed for families around Arizona to hear.
Jake Wade, Imagine Prep senior and member of the Varsity Boys' Basketball Team, commented on what it was like watching this incredible opportunity unfold for his fellow teammate and what he thinks this means for the school as a whole.
"It was very exciting to see it develop," Wade said. "It's not like we're just watching it on TV anymore, we were actually a part of it. I think that the only way left to go for the Prep is up. If we're getting this much attention in the media right now with how small our school is, imagine the things we can do in the future when we finally expand, bring in more students, and really establish ourselves as a school to be reckoned with."
Ben Andree, Imagine Prep's media teacher, also commented on what it has been like watching Imagine Prep receive this level of news coverage.
"I found it interesting to see three completely different stories made out of the same submitted footage," Andree said. "I think they painted a beautiful picture of our school and the atmosphere and culture we strive to produce at Imagine Prep. I hope this coverage will continue to be a cornerstone for the school atmosphere we continue to build."
Terri Leach, one of Waggoner's teachers, also described the impact this has had on himself and his class.
"It has been really exciting for our class as well as our schools," Leach said. "Derek's classmates have been so excited and tell Derek that he is famous now and he 'made' our school famous, as well.  Derek takes a lot of pride in telling others about his news feature and even watching it with them.  He never tires of sharing the story."
Winning the hearts of news outlets alike, Waggoner's teammates also made it clear that he earned a very special place in their hearts as well. Wade described what it has been like having Waggoner as a fellow teammate and seeing his efforts on the team.
"Derek was always making everyone laugh," Wade said. "Even if the team was having a bad day he would always find some way to lift us up. As for his efforts on the team, he consistently went into practices and games giving 100 percent and truly trying his best to improve and learn on and off the court."
On and off the court, Waggoner's contagious energy holds true as Leach added that his classmates shared very similar views with his teammates.
"Derek's classmates would describe him as friendly, athletic, and funny," Leach said. "He never fails to make them laugh."
Andree also described his importance on the basketball team.
"Derek may not have had the most playing time on the team, but I think he still was a huge member of the team," Andree said. "He's a positive guy and he's got great team spirit. I guess you could say he was the soul of the team."
With a big smile on his face, Waggoner described how amazing this entire opportunity has been for him, the excitement in his voice more than clear.
"Everything was really fun," Waggoner said. "There was the half court shot and that was really cool. Getting to talk to the news was super exciting, too. I'm just very happy this all happened!"
If there's one thing we can learn from Waggoner's story, it's that all hard work, effort, perseverance, and passion that one puts into something will never go unnoticed and are bound to pay off eventually. In Waggoner's case, the pay off was greater than anyone could have possibly expected it to be! Waggoner's extraordinary three-pointer shot and heart of gold have made their mark in Imagine Prep's history and truly made him an unforgettable figure at the school.