She keeps her eye on the prize
Students have a hard time juggling all of their homework and studying, and some of them even do sports on top of that. It can be a difficult job walking along the tightrope of school. But, can you imagine what it's like for the coaches of those school sports teams? They have to grade papers, make lesson plans, and maintain a social life on a daily basis. They're real-life superheroes to us students. Some of us strive to be like them.
Emma Franco is a high school English teacher, and she coaches the middle school softball team here at Imagine Prep. She has been playing softball since she was eight. She continued playing it in high school, and a little bit for Northern Arizona University.
Franco enjoys playing softball as well as coaching it.
"I like that it's more of a mental game; I've never been very athletic, softball is like really the only sport I ever played," Franco said. "I knew how to throw and I knew how to catch, but a lot of the game is mental. You have to know what it is you're going to do with that throwing and the catching. I liked that it was really just being smart on the field and not necessarily how strong you are or how fast you are. It's more of, do you understand the game".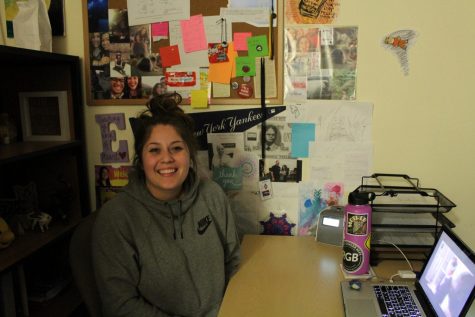 She got hurt when she dislocated her knee twice, so she began her career as a coach.
"I don't know if I would have started coaching if I didn't get hurt when I was younger," Franco said. "Immediately after I got hurt I started helping out my sister's team."
She liked helping out the younger kids, teaching them how to play softball, and watching them grow warmed her heart and brought a smile to her face.
Seventh-grader Abby Ramirez is a student athlete for the middle school softball team at Imagine Prep. She started to play it in first-grade when her mom signed her up for a city team.
Ramirez wants to play softball again next year.
"I enjoy having and talking to a team," Ramirez said. "We get to make plays together."
Ramirez wishes to have Franco as a coach again next year when she is in eighth-grade, since Franco knows that Ramirez likes to play softball.
"I like that Ms. Franco pushes us hard, and she allows the team to have equal playing time," Ramirez said.
Alyssa Lancaster is a sophomore at Imagine Prep, and a student in Franco's Literature class. She's been taught by Franco for two years and Lancaster absolutely loves her and the class.
"Her class is super fun. There's never a dull moment with her," Lancaster said.
Lancaster hopes to have Franco for her next two years of high school, and to keep on making fun memories with her.
"She is really kind, and she always has a smile on her face, like she's never in a bad mood," Lancaster said.
Franco marches her way through school and softball with a smile on her face, and she will have many bright years in the future as a teacher and a coach.