Have you ever wanted to make a quick snack before school or work that was easy and delicious but had no idea what to make?  Well, there are so many new exciting recipes circulating the internet and there is a good chance you have heard of a few of them. From whipped coffee, cloud bread, pancake cereal, to even Oreo mug cake.  Many of the various recipes are quick and easy to make.  Thus making them so popular because people want efficient recipes to make at home.  With that being said, some turn into failures for many and are a little more difficult to make. Some even don't taste that well, so you want to make sure you aren't wasting your time on something that isn't worth it. There are various reviews online to check out on all of these recipes and even step-by-step directions on how to make each of these tasty foods and drinks.  
People have also gotten very creative with their drinks that they order at a popular coffee shop,  Starbucks.  For example, there are drinks that social media has named like the "Pinky Drinkity" this drink consists of Hibiscus and green tea combined with fresh strawberries, fresh coconut, and raw honey that makes this drink so refreshing.  
These foods and drinks are mouthwatering,  so which are the best to actually try out?
In early March of 2020, the Coronavirus pandemic broke out causing many to quarantine.  People became stuck at home causing boredom to skyrocket.  So what did they do?  People became fascinated with an app called Tiktok. The app quickly became popular and people began coming up with new food and drinks to try out at home that were "easy" and "efficient". 
According to the online women's magazine, Bustle, the app Tiktok is responsible for creating this popular food and drink trend.  They are quick, easy, and fun, and put a twist on classics and combine favorites.
One of the most well-liked drinks that was discovered was a simplistic one called "Whipped Coffee".  This drink took the internet by surprise considering it was so easy and most had the ingredients already at home.  The drink is made of instant coffee, water, and sugar.  And certainly became popular for over a month.  According to Taste Of Home,  it was strong like espresso yet creamy and frothy like a latte. It had just the right amount of sweetness to offset the coffee's bitterness without making it too sweet. 
Whipped coffee became a fan favorite and was even liked by a few of Imagine Prep students.  
Other trendy foods and drinks were Oreo mug cake and the strawberry creme refresher.  These food and drinks became popular roughly in the middle of the pandemic.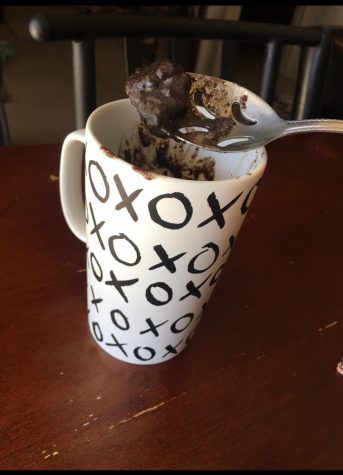 Mug Cake was invented years before but adding Oreos to it was a great move.  All you needed were Oreos, milk, and a microwave, and boom you had a tasty treat.  There were mixed reviews about this one though, some said that no matter how many times they tried it came out watery or bland.  Many have also described it as a "melted down brownie" or a "muffin".  I even tried it out for myself and I would have to agree with the fact that it comes out a little watery even if you follow the recipe.  Mine mostly tasted like mushy chocolate cake and it personally wasn't a favorite of mine. Besides the mixed reviews, most said it was great and they would consider trying it out again.  
Next was the Strawberry Creme Refresher, it is just a perfect blend of ingredients.  Tiktok users began going to Starbucks and creating new drinks.  One of the most popular ones was definitely the Strawberry Creme Refresher. 
 According to a Baking site named Bigger Bolder Baking,  strawberries and cream go together like peanut butter and jelly.  They taste great together and make a perfect combo all in one blended drink. 
It became one of Starbucks most popular drinks and took over the internet as well.  People actually found a way to make it at home and began sharing their own recipes on TikTok.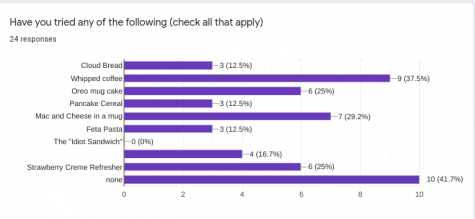 A survey was conducted at Imagine Prep Surprise to really determine which food and drinks were the best to try out.  Every grade level at Imagine Prep had the opportunity to give their opinion.  Out of 24 responses for their favorite food and drink trends,  37.5 percent have said they have tried whipped coffee, 25 percent have tried Oreo mug cake, 12.5 percent have tried cloud bread, 12.5 percent have tried pancake cereal, 29.2 percent have tried mac and cheese in a mug,  12.5 percent have tried Feta Pasta,  0 percent have tried the "idiot sandwich" that was famously named by Gordon Ramsay, 25 percent have tried the strawberry creme refresher, and 41.7 percent have tried none.  Most responses came from freshmen ( 37.5 percent) and sophomores  ( 45.8 percent).  It is definitely safe to say that most Imagine Prep students have tried at least one of these and is popular in the Gen Z community. 
From the conducted research it is apparent that drink-wise whipped coffee and the strawberry creme refresher were definitely the most popular.  Five said whipped coffee was their favorite out of the options,  some even said the strawberry creme refresher was really really good and that they recommend trying it. 
Food-wise, mac and cheese in a mug came in a close second with seven votes, and Oreo mug cake came in a tie with the strawberry creme refresher.  The rest were in the low percentiles. 
TikTok has blown up these recipes and given people all around an opportunity to try new food and drinks while in quarantine.  From the research, the final answer would be that whipped coffee, mac and cheese in a mug, Oreo mug cake, and the strawberry creme refresher would be the best food and drink trends to try out.  There are websites like Scrambled Chefs https://www.scrambledchefs.com/2-ingredient-oreo-mug-cake/ and Bigger Bolder Baking https://www.biggerbolderbaking.com/starbucks-strawberries-cream-frappuccino/   that will walk you through step by step in how to make these delicious treats. Now you know which are the most tasty and efficient to try out, so go get yourself in the kitchen and follow some of the recipes!