Remembering Mr. Hulstrom
Recently, a dear faculty member here at the Prep passed away on Sept. 23, Mr. Thomas Hulstrom. He passed away from heart complications at the age of 78. Hulstrom was a staff member here at Imagine Prep, and was the embodiment of the Prep. He helped start a lot of organizations, such as; student council, national junior honors society/national honor society, lead the foreign exchange program and organized senior class events and graduations.
He was a very caring and inspirational person, and according to junior Tanaeah Singh. She said he was always someone who would check in on her.
"Last year when I was going through things, he always made sure to check up on me," Singh said, "He always made me smile and always told me to keep striving to work harder."
Many people had similar things to say about meeting Hulstrom for the first time.
"Mr. Hulstrom was so kind and warm in welcoming me to our school," Alexa Pupo, a high school social studies teacher said.
Chris McComb, the principal at Imagine Prep said he helped all of those who needed it. McComb knew Hulstrom for about 12 years.
"I mentioned… when we met, I was a teacher and that very next year, I became assistant principal and had an opportunity to really build the school in a direction that you know we wanted, and he was, he was a big part of that," McComb said. "And so his influence from the very start, he worked as kind of a mentor with me as we kind of shaped the direction of where we wanted Imagine Prep to go."
Current director and coordinator of Imagine Prep's chapters of NJHS and NHS, Gia Lowell said Hulstrom was a pure delight, debonair, charming, thoughtful, caring and contagious.
Pupo said Hulstrom was the inspiration for many of the events Imagine Prep hosts year in and year out.
"He was the driving force behind all of the amazing events that have become such a vital part of our culture at IPS – our homecoming and prom dances, our National Honor Society induction ceremonies, our Rally Around the Flag ceremonies, our high school graduations, our school assemblies, and even our school mascot, Thunder," Pupo said."It has been such an honor to see the way that Mr. Hulstrom continued to grow each of these events, too."
McComb said he learned something new from Hulstrom every time they spoke.
"You know I always would tease him that he needed to write a book, because he had so many experiences, you know I have known him for 12 years and I felt like every time I had a good conversation with him I learned something new," McComb said.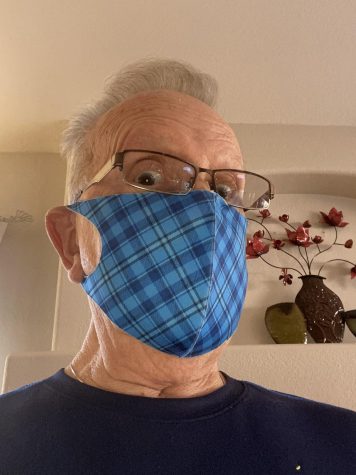 "It was always fun with him," Singh said it was always enjoyable working with Hulstrom on student council, "He always kept us working, on our toes, but he also taught us to never give up. Through everything he had everyone's back in StuCo."
StuCo is short for student council, and Taneah Singh worked hand and hand with Hulstrom as a coordinator of sorts for our student body government.
He was well known, liked, respected and the best dressed person on campus. His influence will not be forgotten and will be remembered by Imagine Prep student and staff for years to come. 
Chasing the Storm would like to share their deepest condolences and sympathies with Mrs. Cheryl Hulstrom and the rest of the Hulstrom family.