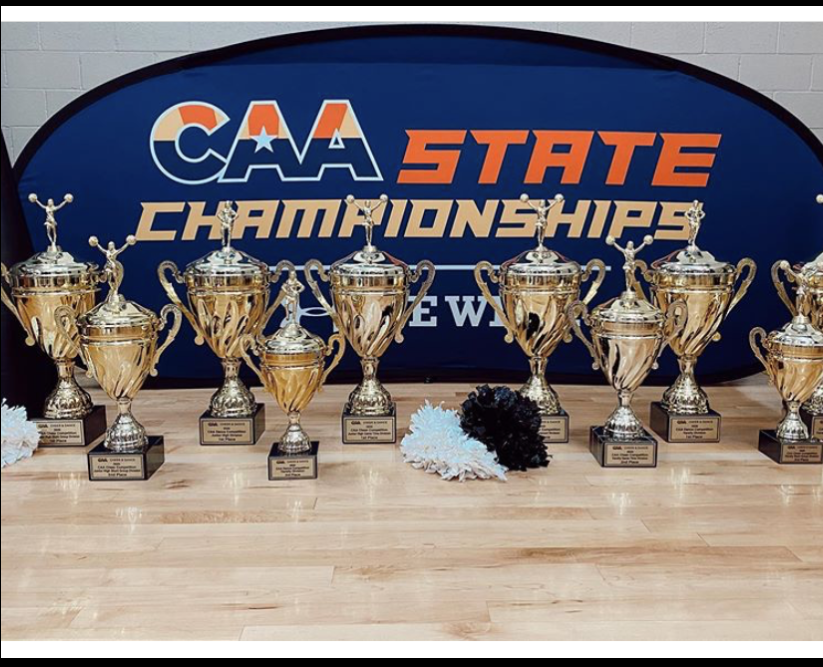 Imagine Prep cheer and dance take the win!
All you can see is cheerleaders everywhere from all types of different schools when you walk in all you can see the nine big blue mat's ready to be performed on. Parents, friends all over the bleachers ready to support.That nervous feeling you get before you hit the mat is what every cheer and dancer is feeling with such high energy as they perform!  You're Imagine Prep cheer and dance team cheered it off at American Leadership Academy in Gilbert. 
All cheer and dance teams had to clock in at 7 a.m. The event did not end till 5 p.m. 
Everyone worked so hard you finally got to see it pay off. Overall,high school  cheer won first place, high school dance won third, and high school trio won first. high school five man team one won third place while five man team two won first place!
Middle school cheer didn't place, but still did an amazing job and put on an amazing performance. middle school dance took home first place trophy.  Very proud of our Imagine Prep cheer and dance team. The next competition will be on March 21 at Hurricane Harbor water park.    
Imagine Prep's varsity cheer and dance coach Phoenix Hunt explained that competition and sideline cheer are a little different.
"Competition is what you accomplish as a team and where you compete with other schools, and sideline is team spirit cheerleaders who attend football and basketball games," Hunt said.
"As a team you all have the ability to challenge yourself and work through everything."
Over the past two weeks the cheer and dance team have been working very hard in the gym putting a lot of effort and sweat into what they do and it finally got to pay off. The last week before comp day we call in black out week so  practices can't be missed and if you do you're not able to compete so it's very important for every cheer and dancer to attend practices when mandatory. 
"I'm very used to being on a comp. team," Ginevra Amadei, a senior member of the tam said. "I have done it all my life so I wasn't nervous, and to do a trio and a cheer routine was super fun for me to experience. This comp. has to be the best competition that I have been in. There was so much support with my team. The crowd's energy is what really hyped me up the most to see the crowd go crazy when Imagine Prep would hit the mat really met a lot."
The cheer and dance team is now preparing for its next competition.