Students Reaching Students; Youth Alive Brought To Imagine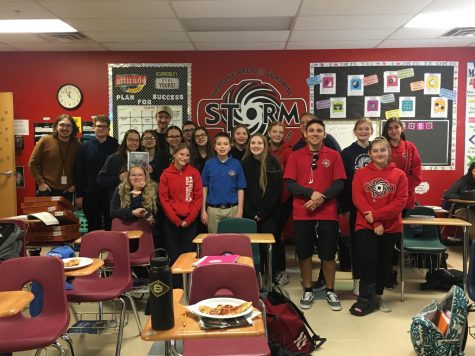 Youth Alive is an organization that partners with local churches to bring the gospel to every student in every school. These campus clubs are student-led, meant for students to reach students by sharing their testimonies. Nationally, Youth Alive is 40 years old however, it began to blossom and grow in Arizona when their now director, Christian Chambliss, joined them about two and a half years ago. 
"We've grown from nothing, to fully functioning," Chambliss said."Youth Alive, nationally is 40 years old, but Arizona Youth Alive was started by us in 2018. So we've really seen a dream materialize. We're on 55 campuses right now, and we'd like to be on 100 by the end of 2020, and then we'd like to build our Seven Project (school assembly) program to be something that school administrators desire for their schools."
This amazing organization was brought to Imagine Prep on Nov. 11, of 2019 by freshman Anneliese Gannon and eighth grader Emma Miller. 
Miller first felt called to begin this club at youth convention, which was back in October, held at Dream City Church.
"That convention altered my world and my heart from that night on," Miller said. "I believed that God brought me into that moment so I could know that sharing my faith with others and my testimony is the next step God has for me. I wanted to bring Youth Alive to Imagine because I believed that a lot of the students throughout our school need salvation, that I could be a light in the darkness, knowing that by sharing my faith, students can come to know Jesus and be saved."
Events like these have empowered students such as Miller to take the initiative to speak up and tell their story to their peers and empower them to do the same spreading the gospel one student at a time. 
For the little time that Youth Alive has been at Imagine, it has already seen growth. There were about 10 students, and since then, it has doubled. 
This has only been possible because of the many people who made the decision to say yes to this amazing opportunity. A huge thank you to our principal Mr. Chris McComb,  middle school counselor Mrs. Amy Boven, eighth grade Mathematics teacher Mrs. Heather Frost, and of course our local churches who have been there to guide and support us spread the gospel to the students at Imagine. 
"I love to see students connections and all of us coming together to pray and love on each other makes it worth the while," Miller said. "We're so excited to see what God places in front of us next, and me personally, I'm challenging my faith to share my testimony with those who are struggling just as I did. I'm excited to see my peers come to Christ."