Bone-Chilling app predicts when you die; Movie Review
November 18, 2019
Death. Have you ever wanted to know when you were going to die? Yes? Well, watching the new Countdown movie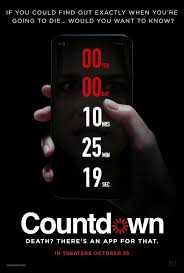 might give you second thoughts.  
The 2019 Countdown is directed and written by Justin Dec and is a thriller/horror movie. Countdown is an STX films movie and it is based on a fake app that will tell you when you are going to die: Countdown Death App. According to IMDb.com, the movie stars, Elizabeth Lail, as Quinn Harris, who also starred in Once Upon a Time as Princess Anna/Joan, Jordan Calloway, as Matt Monroe, also known as Chuck Clayton from Riverdale, Talitha Eliana Bateman, as Jordan Harris, also known as Janice from Annabelle: Creations, Peter Facinelli, as Dr. Sullivan, also Dr. Carlisle Cullen from Twilight, Anne Winters, as Courtney, known as Chloe Rice in 13 Reasons Why, Tichina Arnold, as Nurse Amy, known for Vicky Howard in Are We There Yet? and many more cast members.  
According to the trailer, the movie is about how Quinn, (a nurse who gets a patient who has the app), has only two days left to live, she does everything she can to escape death; she tried to get  a new phone and phone number, but nothing seems to work out in her favor so Quinn and Matt,( a person she meets that is a user of the app), work together to beat the app, but what happens after that we don't know. 
The Countdown Death App was developed by Ryan Boyling and was created for entertainment purposes only, but when the movie came out Apple removed the app from the IOS app store. Some rumors are that people believed the app and complained about it and reported it, so Apple took down the app in the hope to get rid of all fear that would come into play with the app. 
"iPhone makers had stated some reasons for the app being "too minimalistic," Variety.com states.
After watching the movie I would rate it a 3/5 because the movie is categorized as a thriller/horror movie. Personally, I watch horror movies all the time and this movie didn't scare me. It was really easy to tell when the jump scares were going to happen and what was sure to happen next. The movie plot overall was good but if they put in a little more effort the movie would be amazing. I would recommend watching this movie if you had a really long day or week and need to wind down a take a break from all the schoolwork you have.